Here are three ways to use the Jumprope app! I'm into my second month working with it and I've been loving it! Have you had a chance to check it out? Jumprope is an app dedicated to tutorials of all kinds. But they are presented in a clear, step-by-step format that makes every project look easy and doable!
Download the app to your phone or tablet, that's where the action happens. Set up your profile and then you can decide how you want to use it. I really like how Jumprope tutorials cut to the chase – a simple slideshow of directions for all kinds of DIY projects – from crafting to cooking, home decor, beauty, and more!
I've been uploading tutorials each week on the app and came up with three awesome ways you can use the app! First thing, create an account and fill out all the profile information.
Be a Jumprope app lurker
Keep it handy on your phone so you can look for new ideas. And no having to click through anything, the tutorial is right there in easy steps to see how to make it, no wasted time scrolling.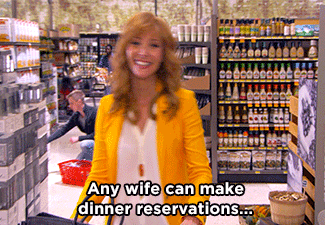 For example, if you want a new dinner recipe while at the grocery store, you can just scroll through to quickly find a recipe that fits your mood, then see the steps to REALLY know if you're sold, lol!
Same goes for crafting. What are you in the mood to make? Cricut projects? Tie-dye? Cardmaking?
Be a Jumprope app creator
This is if you have great ideas and want to share them. To make a Jumprope, there are different choices. Click on the + button at the bottom of your screen and you'll see the options. You can shoot right from your phone to create the video, or upload pictures from your camera roll, or even upload a video and cut it into steps.
You'll see a cover screen where you can upload a photo. From here you can rotate and edit, then move on to adding the text. When you are done, tap the screen and the slide for the first step will come up.
Then you just keep adding to it, one step at a time. You can edit each portion as you go. Then you can reorder the steps, delete them or add to them. Even after you publish it, you can go back in and make edits! There are filters to make your images pop, and you can choose a color story to fit your brand.
It's handy because after you publish and see you need to make an edit, you can easily go in and make changes and resave.
Once you've finished with all of the steps, you can add a product list with links, even affiliate links.
My FAVORITE feature on the Jumprope app? Saving your video for different platforms. It literally resizes it for you, and even has a bleed and non-bleed version.
Jumprope will automatically end your video with a slide featuring links to all your social media handles. And if you have a blog post that pertains to your video, you can add that too.
If you're a blogger, it's a great way to freshen up your previous content and reshare it in a new way.
Be a lurker and a maker!
That's where I fall in. I love to use it to find new ideas, or to see what my friends are making. I think it would also be a great tool for family members to share recipes and crafts. Think of the Jumprope app and an exclusive community of creative peeps sharing how to do and make things. No storytelling or selfies, just straight up tutorials, lol!
Alrighty, now let me share three of my recent Jumpropes I made. I love how they turned out!
Easy Iron-On Vinyl Tee by craftychica on Jumprope.
Easy Origami Envelopes! by craftychica on Jumprope.
Margarita Glass Cactus Garden by craftychica on Jumprope.
Don't they look great? I like this concept because sometimes I'll do projects that aren't big enough for a full-on blog post, but still have value for teaching. Now I can make Jumpropes of those techniques and do a round-up or share them in various ways. I also love that there are so many other ideas!
Thank you for checking out my post, let me know if you try the jumprope app!
RELATED CONTENT:
Love & light,