Not only are we talking about the history of La Catrina, but I also have a free muertos printable! I've created and compiled all the design elements you need to make a super cool pop-up card. All you need is a blank card or cardstock, glue stick, scissors and whatever other embellishments you want!
First – download and my free muertos printable. Use glossy photo paper or cardstock, it will look nicer! All the instructions to make the card are in the printable. I made this for HP, they have a whole site dedicated to printables and crafts, I thought I'd share it here too!
Click below to download. For personal use only, please. Not for commercial or profitable use.
La Catrina Pop-Up Card #craftychica
The History of La Catrina
If you're at all familiar with the Day of the Dead celebration, you will recognize the face of La Catrina. As the holiday approaches, she is everywhere! From the decorative makeup and candies to the posters and kid's crafts. La Catrina's elegant beauty can be picked out easily. And, while she might seem like just another face in the sea of calaveras (skulls), there is actually a story behind Mexico's Grand Dame of Death.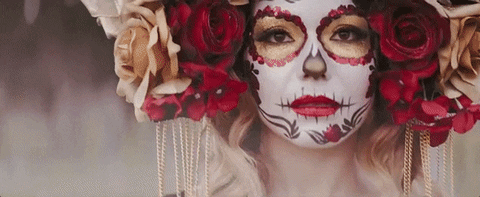 Because of her origin, history, and symbolic meaning in the Mexican culture, La Catrina is one of the most iconic symbols of Día de Muertos. Let's explore the true meaning behind La Catrina! Where she came from, and what her purpose is in the Día de Muertos celebration!
She is Day of the Dead's Most Recognized Symbol
As mentioned, La Catrina is easily the most common symbol associated with Day of the Dead. Her look is recreated in countless different ways. Many unfamiliar with the traditions might not recognize her symbolism. Originally created by artist Jose Guadalupe Posada, La Catrina begins as a way to remind those celebrating that we're all the same inside.
And will one day be nothing but bones.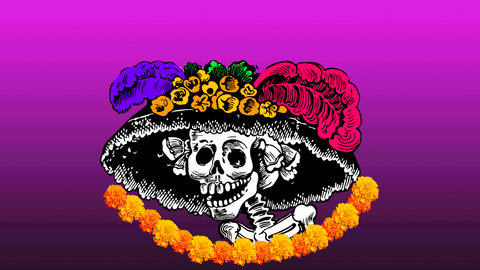 La Catrina, first introduced in about 1910, stood out from the others because of her large, extravagant hat and fancy clothing. La Catrina was actually designed as a satirical way to poke fun at the catrin or catrina, who was a person of Mexican descent who adopted European aesthetics.1
She served as a way to remind us to stay true to ourselves, and never give up who we really are for material possessions!
She is Not the First to Watch the Bones of the Dead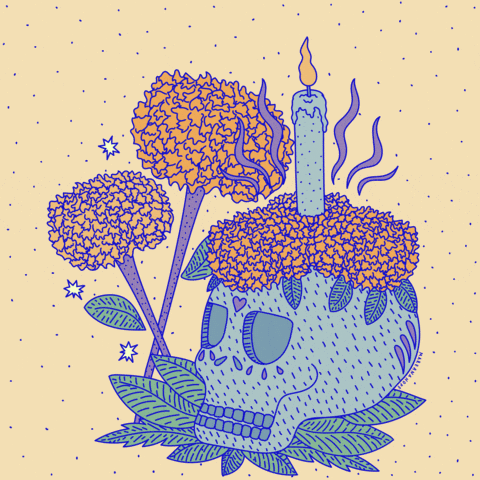 It is said that La Catrina is responsible for guarding the bones of the dead, although she was not the first "lady of the dead." In fact, that title was assigned long ago, first by the ancient Aztecs to Mictecacihuatl, the goddess of death.2 This is where Posada first took his inspiration for La Catrina. Mictecachihuatl was responsible for presiding over the festivals that took place to honor the dead and greeting those who passed on to the next phase of life.
She is Often Adorned in Marigolds
One continuous theme throughout all of Day of the Dead is the holiday is rich with culture and symbolism. While La Catrina remains full of symbolism, she is so much more. The Dame of Death is often surrounded by marigolds, adorning the flamboyant hat she is always seen wearing. And anyone who has ever experienced a Day of the Dead celebration will tell you that marigolds are a very important part of the festivities!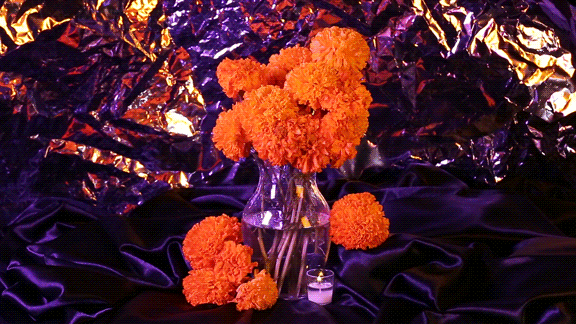 Because of their vibrant color and strong smell, marigolds are used on the ofrendas (altars) and graves of deceased loved ones as a way to guide them back to their families. Known as the "flower of the dead" marigolds have a long connection with Day of the Dead. That's why La Catrina wears and carries them.
These delicate orange and yellow flowers only live for a season. They serve as a reminder of the fragility of life, and how we all will eventually pass.
Well, there's a short wrap-up about the history of La Catrina. I highly suggest you research to learn even more about her and the artist who brought her to "life." Now let's go use this free muertos printable to make a card!
And here are the directions for the free muertos printable – La Catrina Pop-Up Card!
Here is one version of what this free Muertos printable can look like. You can make these cards to put on your Muertos ofrenda, or to give to friends and family. Write a clever poem inside.
I hoped you liked learning about the history of La Catrina and let me know if you make the card!