Here are my 5 tips for using TikTok for personal and career life. First though, I NEVER thought I'd say "I'm hooked on TikTok" – but OMG.
I AM HOOKED ON TIKTOK.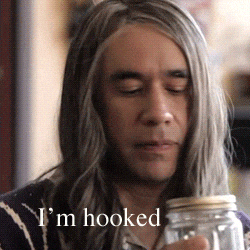 I had heard about it a couple years back when a friend even suggested I use it to share my DIY videos.
All these red flags went through my mind:
Is it safe?
Is it only for kids?
Do I have to dance?
I signed up but didn't really do anything with it. But then like so many others during quarantine, I craved company and laughter – basic human connection outside of my family circle. So one night I downloaded the app again and found all of those qualities. What made it so magical at the time was quarantine. People were on lockdown with their parents and grandparents which resulted in a lot of storytelling, wisdom, comedy and more. Even though we were all stressed out because of Covid, TikTok served as an escape to find love, laughter and mucho creativity. And sharing of ideas!
You don't have to dance, unless you really want to, and you don't have to watch people dance unless you really want to.
And it's for ALL ages.
I kinda sorta posted some content, but mostly just watched and enjoyed.
TikTik definitely calmed my nerves.
Then in August, TikTok reached out to me to do a two-month branded campaign where I had to post 40 TikToks in eight weeks. I almost passed on the chance because I liked that TikTok had become a little escape for me – pure enjoyment. But the pay was good and I figured this would be a chance to learn new skills and ideas – so I signed on.
Not only did I have my FIRST-EVER million view piece of content (after all these years!), I made so many new connections and followers for my Crafty Chica stuff. These days I post at least once a day, but still watch TikTok every night for about 30 minutes. I laugh, I cry, I think deeper…I love it!
Now TikTok is my favorite out of all of them! I see so many opportunities on all different levels so I thought I'd share them with you!
5 (and more) tips for using TikTok for personal and career life
Here's how it works: TikTok has this magical algorithm that fine tunes exactly what kind of content you are into and then they serve it you. I noticed my TikTok topics rotate from crafts/DIY to manifestation, small business tips, healthy eating/cooking. And…cute Chihuahua videos!
How to start: Sign up for an account and start watching the For You page. At first this serves as a sample of content. TikTok figures out what you like based on how long you watch a certain video, if you rewatch it, if you give it a like or a share. Click the little plus sign if you want to follow that person. Then on your home screen you'll have two options – one to watch the people you followed or more of the For you page.
That's it! The more you watch, the more the algorithm figures out what you love most and serves it to you.
Personal growth: There are a LOT of life coaches, meditation guides, chefs, bakers, organizers to be discovered. And they all have tips and hacks to share to enrich your life, or just to make some things easier. Because of TikTok, I've been journaling more than ever, writing down my specific goals, and really thinking about the big picture of life and making the most of who I am and my purpose. and how I can serve others in the best way possible. And I've learned ideas for a mini-waffle maker and an air fryer! LOL!
Career: I love the #SmallBusinessCheck hashtag feed. It consists of small business owners (my feed has mostly creativepreneurs like me) sharing ideas, day-in-the-life, tips and more. I'm also into the author feed so I follow copy editors, marketing professionals, authors, and book agents. The details they share are so helpful!
Okay so now that you know the basics, here are my tips for you!
Posting content:
TikTok is so different form the other platforms. It's very personal. Rather than feel like you are sharing an idea with the world, look at it like you are sharing with one person. I feel TikTok is the most authentic platform because people put out content that is not themed around being perfect and polished. Yes, there are brilliant coordinated tutorials and show stopping numbers, but for the most part, it's people sharing personal ideas that worked for them, and if it didn't work, they explain why.
Hashtags
This is how you can finding content to your liking quicker. There are segments like #LatinaTikTok #WritersTikTok, etc. simply type in your topic in the search field and start watching. Make sure to like the content you want to see more of for even better fine tuning!
If you are posting content, make sure to use only 3-5 hashtags of varying relevant topics, plus one of the trending topics. If you use too many hashtags, it will confuse the system and your content will get lost.
Trends
These are so fun! When someone's video takes off, it creates a trend and then you can see all the creative ways people make videos using a song or a theme. It's also a wonderful way to discover new talent or musicians. And it happens so fast! These trends change every couple of days. They are super fun to watch, and if you can, join in!
Tutorials – #LearnOnTikTok
TikTok is really branding the platform as a place to learn. There are so many mind blowing hacks. As a watcher, you can mark your favorites so you can watch them later. As a content creator, think about your daily life and the time-saving habits you have. EVERYONE has something to teach!
Interact and engage!
If you are posting for your small business, don't be afraid to ask for help. The TikTok community is very supportive and engaging. And in turn, do the same for videos you love! Give them alike or a share, even better a comment!
Now that I've confessed my love for all things TikTok, stay tuned for videos I'll share here. I'll save you time, I'll find the coolest ones and post for you to see!
And of course – if you are on TikTok, follow me @craftychica!
Thanks for checking out my 5 tips for using TikTok for personal and career life!