Before I go into my In the Heights movie review, I must confess – I've never seen Hamilton. Not even the Disney+ version. I did start it once, but it was during the holidays and I had to tend to gift wrapping and cooking duties.
I've heard of In the Heights, but never saw it either until this week when I went to the advanced screening.
All I knew about Lin Manuel Miranda was his songwriting work for Moana and the remake of Mary Poppins.
Before you throw a soggy tomato at me, please know that now I GET IT!
He is magic! I absolutely fell in love with this movie, the songs, the characters, the dancing, the settings – todo esta!
Let's start with the movie trailer for In the Heights.
Okay, now you see what we are working with. Here are my three reasons you should see In the Heights, actually there are a LOT of reasons, but I'll make it easy.
Spirit, soul, y el sueñito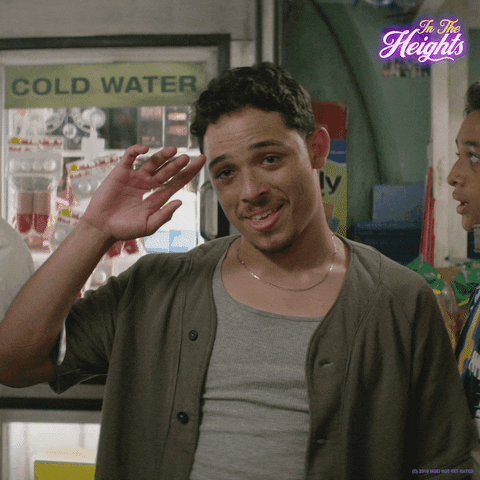 The overall energy of this movie, which run over two hours, is about el sueñito – the little dream. Everyone has one. You. Me. Every character in the story. We all want to find our purpose in life and pursue that path, and seeing these characters go through their own struggle for their suenitos is relatable and emotional. From the girl who dropped out of Stanford and her dad who go to any length to make her stay, it's easy to become invested.
Their plights are interwoven organically so it never feels like we're shifting from one person to the other. That's because Washington Heights is the hub of the community and the folks are tight. They know each other's business, even the juicy stuff! From the corner bodega to the hair salon to the cramped living quarters, these folks weave in and out of the scenes flawlessly.
This film made me appreciate our little slice of life at Mucho Mas Art Studio – where we are connected to a coffeehouse, a barbershop, an Ethiopian eatery, and a nightclub. Throughout the years we've all had time to connect with eachother and share our own sueñito with one another.
The songs and dances of In the Heights!
This is where some people might be turned off at the thought of a musical film. But In the Heights manages to do it in a way that is both entertaining and crucial to the plot. The grandiose numbers will send chills up your arms and I swear you will sway in your seat or at least tap your feet. The vibe is infectious! I'm a big fan of Jimmy Smits, and even he belts out a few notes.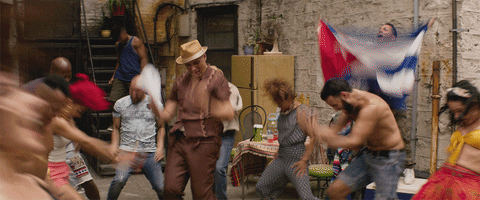 Check out the first eight minutes of the film here.
There is so much to take in – the background scenes (I'm already working on a craft project), the outfits, the rapid fire quips, and every facial expression. You can feel how proud these actors are to be in this film. The cast is brilliant in every way. Even down to the nails tapping on the counter top in perfect sync.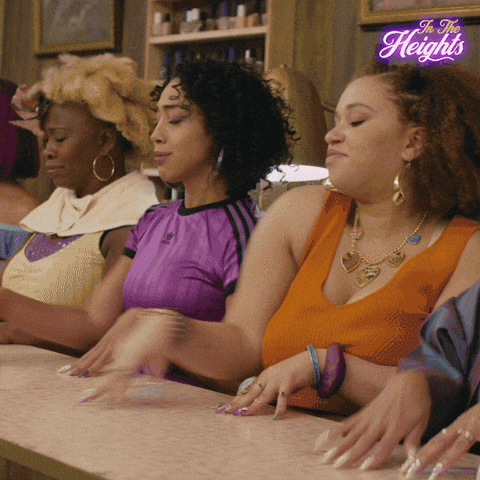 There are several breakout stars, for one Melissa Barrera, she plays Vanessa. You may have seen her in Starz, Vida. Who knew she was such a talented dancer and singer. and of course, Anthony Ramos of Hamilton fame (and She's Gotta Have It), and singer Leslie Grace, and Corey Hawkins.
La Cultura
You will be so happy to see a different side of our Latin culture portrayed here. No drugs or gangs or prison. We've seen enough of those. In the Heights is all about a positive lifestyle of hopes, hard work, and unconditional love when it comes to familia, sueñitos, comida – y friendship. Everyone in Washington Heights wants one another to succeed. They come together for support without skipping a beat, it's the way of life.
There are so many other reasons to watch this film – I've barely scratched the surface. Trust me! And I suggest seeing it on the big screen, it'll hit even harder to your soul!
And guess what? My longtime friend, Tara Hitchcock (Phoenix peeps will know her as the former morning show host of Good Morning Arizona). Tara has been a longtime supporter of our shop, Mucho Mas Art Studio. She shops there, she has crafted there, and when it came time for her to interview the cast of In the Heights, she made a special visit to our shop to film her interviews.
I was not at all expecting to be in her interviews, but she called me over when she went live and how could I say no?
OMG. The cast of In the Heights was able to see a sneak peek of Mucho Mas Art Studio!!! And check out the intro where Jimmy Smits blows kisses to me!! *faints*
Thank you so much to Tara for doing "mucho mas" to include our Latina-owned business in her coverage of this Latino-made star-studded movie! We are so grateful and proud for this one degree-separation from the magical movie!
In the Heights is now showing in theaters and on HBO Max. Let me know if you see it and how you like it!