Here are ten Valentine DIY candy box ideas that will kick your crafty spirit into overdrive!
The heart-shaped candy box is a classic. How about we give it some crafty love? These boxes are perfect for a Valentine makeover. The boxes comes in different sizes and price ranges. I love buying a batch at the dollar store and decorating them.
You can choose to eat the chocolate and fill the boxes with something else (something better than dollar store chocolate, perhaps?). Another idea is to put another treat inside, like a gift card or love note, etc.
When choosing a candy box for decorate, go for the ones that have a cardboard top and bottom, as opposed to plastic.
To keep the seams sturdy, use hot glue to solidify the joint or even add decorative tape around the edges.
After transforming some of these, I thought I'd create a round-up along with some other I found online!
Enjoy these yummy DIY candy box ideas!
For this, I cut up a cereal box and added elements to the lid of a candy box. Start with a basic box, decorate it and then use pieces from the cereal box to add embellishments.
This is from my friends Chica and Jo. They made a HUGE version of a candy box, what a big way to show your love, right? So smart and what a huge statement of LOVE!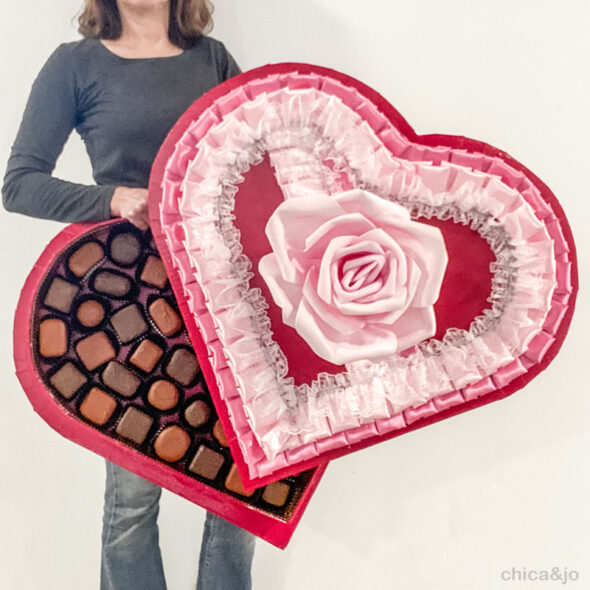 This is a new project, super fun to create! I never tire of decorating candy boxes. This one has Mardi Gras beads, crepe paper, glitter, the works!
A fun kids project and you can use up your craft scraps to decorate these little boxes! Personalization is everything. Make one box for each family member. Kids in school can make them for classmates or their teacher.
Painted Chocolate Box
My husband used craft paint to give this box new life! It was such a hit on social media. Now he plans to paint one every year!
View this post on Instagram
RELATED: Valentine Party Favors
This is just too cool! You can literally eat the whole thing! I need to sendhtis video to my kids, maybe they will make it for me. Right…
Lace-trimmed Chocolate Box
View this post on Instagram
Super Frilly Chocolate Box
I'm not sure if it came this way or if it was crafted – but it looks fabulous!
View this post on Instagram
This lady transformed her candy box into a romantic treasure!
Another shadow box
This is one I made many years back and I still love it!
Love stories to light your romantic fire