Have you ever wondered how to make esquites with canned corn? Well, this easy esquites recipe was inspired by a can of fire-roasted corn my husband bought at the grocery store.
He grabbed it off the shelf thinking it was any old can of corn.
But when we unpacked the bags on the counter, we both lightly gasped in surprise. The universe's snack department surely wanted us to up our game!
Who knew they made fire roasted cans of corn? Forgive me if I am late to the canned corn game, but this made my heart speed up a bit.
We quickly rummaged through the pantries and fridge to delightfully discover we had the ingredients to make our own version of esquites!
Esquites is the dish version of elote.
Rather than eat it off the cob, the corn is sliced off and put into a cup and all the tasty layers are added one-by-one so you can eat it with a spoon.
Elote: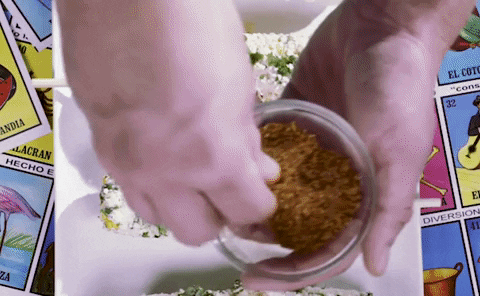 Ingredients for this easy esquites recipe:
OMG, I am so hungry right now, I want to make and eat this all over again!
Fire roasted corn
Crema Mexicana (or mayo)
Butter
Lime
Salt and pepper
Hot Cheetos (optional)
Cotija cheese
Parmesean cheese
Flamin' Hot Cheetos as a topper
How to make this easy esquites recipe!
Open the can, drain it and heat it up in a pan. Add butter, salt and pepper to taste.
Drain again and pour into a bowl. Add the crema and mix.
RELATED: Flaming Hot Cheetos Popcorn
Spoon into cups – one can makes two servings (according to me!). If you plan to serve it on plate as a small side, one can can stretch to four servings.
Add cotija cheese on top, then the parmesan. Now add the Flamin' Hot Cheetos on top, but that is totally up to you if you want to go there!
Squeeze in a healthy dose of lime!
Dig in and enjoy! You can mix it all together or eat it as is. Is your mouth watering? Mine is!
This was such a happy accident because of the can if fire roasted corn, it's so delish I absolutely had to share with all of you!
Let me know if you make this easy esquites recipe and how you like it! Of course, if you have the time you can also go the traditional route and roast your corn on the grill, but if you are in a hurry, this method is FIRE!