Have you ever seen or heard of alebrijes of Oaxaca? The story behind them is enchanting, and you'll see them a lot in the Coco movie. Prepare to fall in love!
Alebrijes are brightly painted fantasy creatures originated by Pedro Linares in the 1930s. Pedro came from a family of piñata makers, so he already had the gene for creativity. After becoming very ill and feverish one day, he had these crazy dreams about animals with mismatched limbs and features who lived in a forest. Donkeys with bullhorns, tigers with wings and so on. Yah, pretty trippy, right? Well, thank goodness for that!
Origins of alebrijes
Once he came to, he knew he had to recreate his visions. He called them alebrijes and used his tried and true paper mache techniques. Since then, his beloved alebrijes have inspired other artists and have become one of Mexico's most recognized art forms. You'll see interpretations in everything from paper mache to carved wood and even clay.
I recently learned all about them and their role in Coco.
I was one of 26 bloggers chosen to visit Pixar studios in Emeryville, CA to interview the team behind the making of the new film. From the story writers to the producers to the animators, we learned how much detail, effort, and love went into the film (it opens nationwide November 22).
Alebrijes inspiration
Artist and designer Alonso Martinez, the character designer (aka, artistic hero!), hosted us for a session to tell us how alebrijes came to life in the film!
As we filtered into the room, we noticed a collection of colorful alebrijes set upon the conference table. Turns out, these were all from Martinez's personal childhood belongings. Growing up in Oaxaca, he said he collected them like Pokemon from all the different artists.
"The amount of love and detail that goes into these – some have more detail than others," Martinez says. "That's one of the beautiful aspects, they don't necessarily come from a mythical or religious background, so every person brings their own artistry. But like many things in Mexico, what makes them stand out is color."
Alebrijes in Coco
Martinez says the team behind Coco wanted to shed light on this art form and thus they created the character of Pepita – a spirit guide who lives in the Land of the Dead. She is a mixture of different animals – she has ram horns, eagle wings & feet, tiger arms and face, and a lizard tail – very creative! The Land of the Dead is set at night ( the lighting is a character on its own) and to really bring Pepita to life, they gave her a magical glow.
The challenge for bringing Pepita to life, Martinez says, is they wanted her to look like a real animal, yet at the same time like a wood carving. They wanted to find a balance between both worlds. You can see the final sculptural concept art in the photo above.
An alebrijes DIY session!
After going through this session, we all had a newfound love for alebrijes.
So imagine how we felt when we were told we were to have a make-and-take session with Alonso.
In the art studio.
To make our own Pepita.
Right there at Pixar Studios!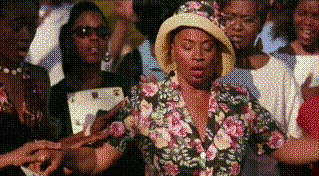 The Pixar team literally made a 3D print of a blank Pepita for each of us to paint. We had 30 minutes!
There was a picture of the original character, but I went freestyle and did my own thing. I couldn't help it, my unbridled excitement took over. Whenever you are in a hurry to paint something, remember thin basecoats! So I applied a thin basecoat, let it dry, another thin basecoat and then I had time to add the accent details.
30 minutes = DONE!
My hands shook the entire time from disbelief of what was going down, where I was, what I was doing, and with whom.
Done!
I finished just in time and even found a moment to snap a pic with Alonso! The doggie you see on the sketch board behind us is another cool character in the film, Dante. Alonso also worked on bringing him to life too! Dante is a Xoloitzcuintli, or Xolo for short, is a hairless breed of dog.
RELATED: 10 Facts About Day of the Dead & How Disney Pixar's Coco Incorporated Them #PixarCocoEvent
We left our Pepitas to dry and went into another building for more interviews. I didn't dare wash my hands. The goal? Keep the Pixar paint on them as long as possible! Maybe it would seep into my bloodstream. Sooo cool – think I even tripped a couple times because I kept staring at my hands!
"That is Pixar paint!"
Alonso told us the key to painting an alebrije is to start with a darker basecoat and add lighter accents on top. Great advice! I took it home and gave it a hit of spray varnish! I'm so inpsired, get ready to see more alebrijes here soon!
Thank you so much for checking out my post about the alebrijes (and Dante the dog!) in Coco. Don't forget, the film opens November 22nd. Oh my gosh, and guess what? I've been invited to the Hollywood red carpet premiere on November 7th!
Like COCO on Facebook: https://www.facebook.com/PixarCoco
Follow COCO on Twitter: https://twitter.com/pixarcoco
Follow COCO on Instagram: https://www.instagram.com/pixarcoco/
Visit the official COCO website here: http://movies.disney.com/coco