It's time for another flaming project of love! I'm talking torches! My job as a Bernzomatic Torch Bearer is to bring you a new DIY idea each month that is trimmed with a little bit of fuel and fire. Since it's the season of gatherings and parties, I thought these wine charms would be perfect. not only are they cute and functional, but I bet a million sequins, your guests will strike up a conversation about them!
You can buy small wood letters at any craft store, and the Bernzomatic torch (I used the Bernzomatic Trigger Start 3 in 1 Micro Torch ST2200), you can find at most hardware stores.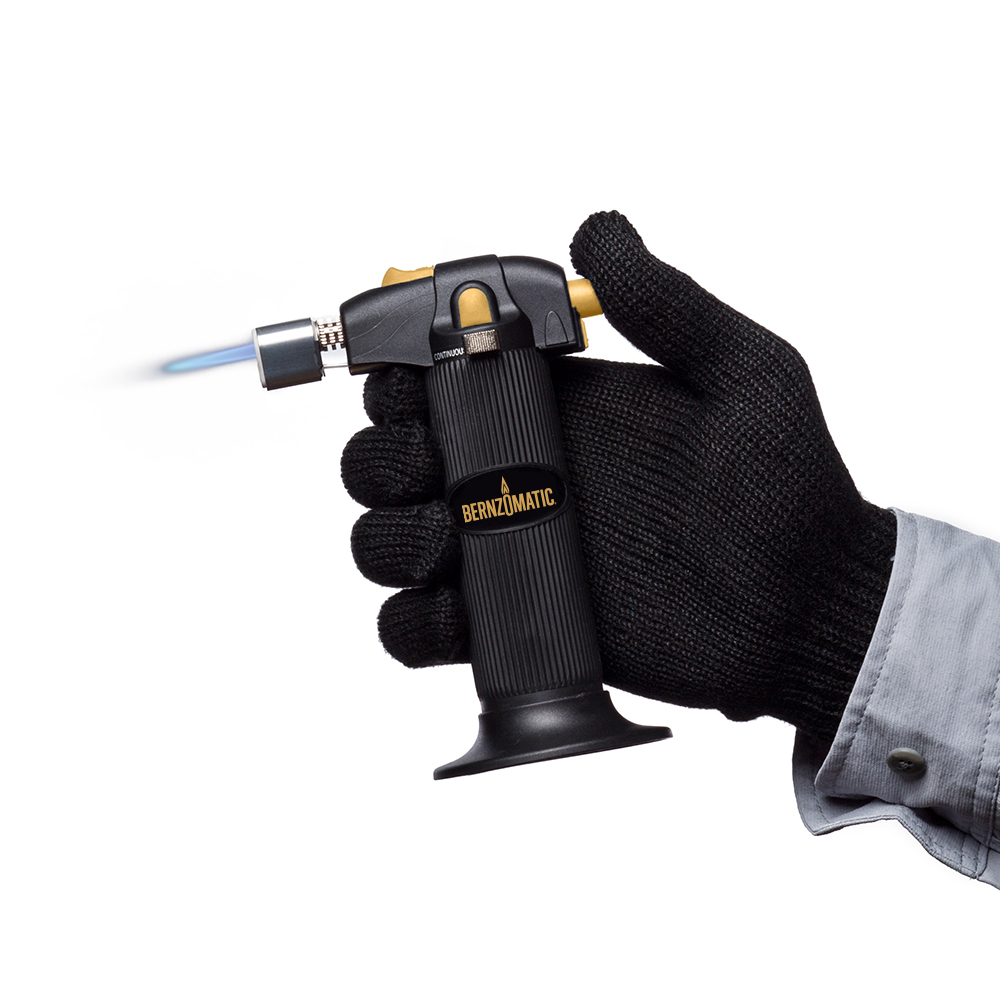 This torch is pretty cool because it also works as a mini heat gun, or you can add the attachment and it becomes a soldering iron. I love tools that have multiple uses!
Okay on to the project!
SUPPLIES:
Bernzomatic Trigger Start 3 in 1 Micro Torch ST2200
Gloves and goggles
Heat resistant surface
Small wood letters
Permanent markers
Handheld rotary drill
Wine charm rings
Jump rings
How to make it
Put on the gloves and goggles. Place the letters on the heat-resistant surface.
Follow the package directions to turn on the torch. Set it at a low flame. Carefully glide it over the edges of the letters, keeping the torch about 4-6" away from the letters. You just want to brown them, leave open wood space so the marker will show through.
After you're done, lift your finger from the trigger and the flame will turn off. Set the torch aside and wait until the letters are cool.
Use markers to color them. You can actually color them before you torch, or after!
RELATED POST: How to Make Torched Leather Cuffs
I added a coat of clear varnish to make the colors shine even brighter. 
Drill a hole at the top of each one and add a jump ring using needle nose pliers.
Connect the wine charm hook.
You are ready to go! Imagine how sweet these will look as a whole set, in a bowl or laid out on a tabletop so guests can choose their letter. Most letter sets also have hashtags, hearts, etc so you can make extra.
"Find Your Fire. There's a fire in each of us. Waiting to ignite. We believe in carrying the torch ignited by our founder in 1876—whose quality craftsmanship and progressive mindset are what blazed the trail that got us here today. We believe in awakening the innovators in all of us—inspiring a culture of creators who can break boundaries, mark new territory and go where no flame has burned before. We believe in empowering those who've found their flame and dare to follow it. Because the ones who do are the catalysts of bold transformations that redefine the limits of what we can achieve.   We believe in our fire and in your fire. It's time to ignite."