You may not have heard folks chat up Phoebe Waller-Bridge yet, but thanks to her turn as L3-37 – a sardonically sassy droid in SOLO: A Star Wars Story, you will very soon. This English actress bursts with enthusiasm and humor with every conversation. And as you can see in the photos above, she is mega animated.
I was one of 25 bloggers selected to attend the SOLO movie premiere and press junket, and that included a 15-minute sit down with Waller-Bridge. There is just so much to take in here, that I thought I'd share my favorite reasons why you'll love L3-37 – and the brilliant human who gave her life.
L3 is the newest droid in the Star Wars franchise.
This is a big responsibility! L3-37 is not the loveably goofy cyber sidekick we've been used to.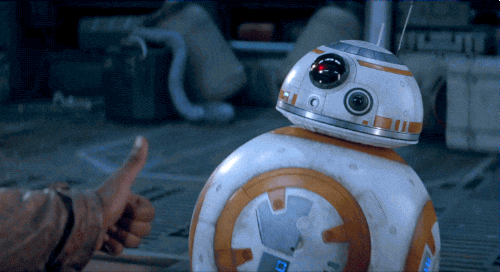 She's highly advanced, extremely witty, chatty, sooo perfectly extra, and is wired to be a kick-ass freedom fighter and thought leader. L3 will grow on you as the story progresses, and that's because of the way Phoebe brings her to life.
"It's so cool that she's (L3) got a cause, you know, says the 32-year-old actress. "She's like a social justice warrior, and she's a droid with an agenda that goes beyond her own existence, and that's very unique. It's good to have a message."
Phoebe approached her character differently from other cast members. First of all, she hadn't seen any of the previous Star Wars films, which she says gave her audition an advantage because she started out with a clean perspective. But once she signed on, she researched and became obsessed with the rest of us. She says she had to strike a balance of being a droid, but one with human characteristics too.
"I think you have to sort of start at the heart, with any character, no matter what they're made out of," she says. "And I felt like she had a huge amount of heart and passion, and even though she sort of wakes up halfway through the film to what her passion is, and, it's nice, knowing you're building to something like that as well. And humor as well. Where there's humor, there's heart, and I think she's got a lot of it."
L3-37 built herself using scraps from other droids.
Homegirl is LITERALLY self-made. Self-built from the inside out.
She DIYed herself!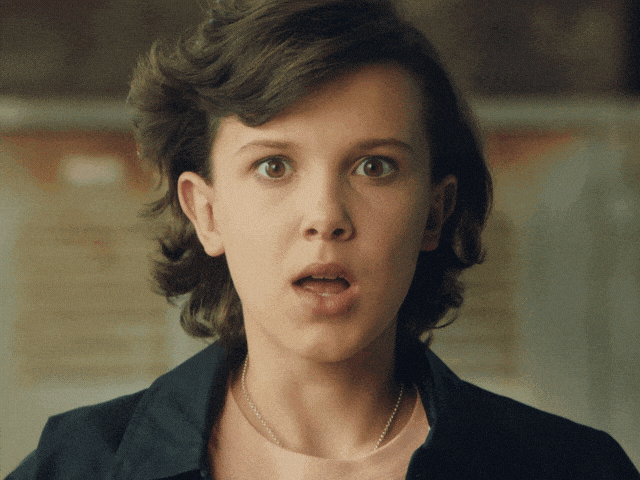 How's that for being crafty?
The beauty of this is you can expect all your favorite attributes from other droids to be embedded in L3 – and then some. L3 is a character who assembled herself to be resilient and calculating, yet vulnerable and mushy too.
L3 is Lando's ride or die.
L3-37 is to Lando Calrissian what Chewy is to Han Solo. Co-pilot. BFF for life. The fearless friend. It's an unexpected relationship that will linger on your brain long after the credits roll. That's all I'll say about that. Except that I LOVE THEM.
Actress Phoebe Waller-Bridge didn't only voice L3, she also acted in a motion capture suit!
Phoebe has stories for dayyyys about that green suit. I found this clip of her talking about how she had to use the bathroom, it's pretty cute. Fast forward to 3:40.
"I had loads of fittings," she told us. "The weirdest thing is, you get a kind of scan at the very beginning. I got a scan of my whole body, and then they'd build a complete replica."
She giggles as she continues to explain the process as she grazes her lanky arms up and down her torso.
"And then they'd build this suit around it, so it fits perfectly. And so I kind of had this suit, this green suit, this, like, skin-tight, really attractive, green, ah…leotard. Really? Oh, yes, unfortunately, yes. And then, on top of that, I had the kind of legs drilled on to me, and the arms, and the chest plate, and then the head."
"It kind of felt like a bit of a hat. But it was amazing. But it was heavy."
In the end, Phoebe didn't mind the layered effort. She welcomed it!
"It was the first time that they'd created a droid that kind of moved properly," she explains with hand gestures. "And I could move all of my joints. Because she's a self-made droid, so she created herself to be…as flexible, bigger, faster, stronger, than any other droids that she would've met."
Fans love Phoebe!
Even before the movie is out, she has built a following with her work on the series Fleabag (star and writing), and Killing Eve (writer/executive producer), both BBC series available on Amazon Prime. If you are a fan of Sophie Kinsella novels, British chick lit, etc – you'll love the former. and you're into thriller, murdery type of series go for the latter.
Combine all of those elements and we have one captivating droid to admire.
She loved that the powers that be allowed her to even ad lib a bit for the role of L3.
"We were allowed to go off-beat — once we got the script in the can, Jon (writer) would be like, "Does anyone else have any ideas?" or "Let's just kind to be a bit looser with the scene." And so we did get to do that a few times. And then if anything good came out of it, then they would do a take of that. It was really fun. I mean, the whole atmosphere on set was just so fun. And encouraging. And everyone was just so excitable, and it was just like, "Ooh, that's a good idea, let's do that." It was really nice."
RANDOM NOTE: Can we talk about this photo? So much is going on, I love it! It reminds me of the lovely chaos at the premiere. Phoebe and Alden are offering their best smize, while SOLO co-star, Thandie Newton is photobomb GOLD. And look at Alden's water. Is that someone helping him hold the bottle? And please. mosey your eyeballs above Phoebe's shoulder to see another SOLO co-star, Donald Glover peeking at us. Lastly, for the record…WHERE CAN I SCORE A PAIR OF PINEAPPLE DIAMOND EARRINGS?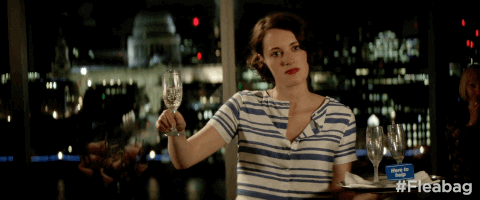 Bottom line, mis amigas – three cheers to Phoebe for adding the weird, quirky, funny, loveable to L3. This is a droid you'll want to have over for a girls night out or to sit and talk for hours about the meaning of life. I suggest getting together for a craft party to make L3 hats. Phoebe told us the headpiece felt like a heavy hat  and my mind began to race with DIY ideas.
Stay tuned!
L3 and the rest of the cast will inspire you "It's a film celebrating individuality and individual causes and having the courage of your own convictions," Phoebe says, heartfully. "People want to fight for their shit."
A laugh escapes between sentences, but we know she is quite serious.
"But also, yeah, there are so many amazing relationships in it (the movie), and I think it's inspiring. The trust it takes to partner up with somebody, and I hope that inspires them as well."
SOLO: A Star Wars Story opens May 25th!