The first time I recognized its power?
Age nine.
During that era, my mom spent hours every week perfecting a variety of looks on my head, embellished with ribbons and ornate barrettes. It didn't stop there. Home girl made it her mission to match my dresses, knee socks and shoes. 
All life revolved around my big hair. 
From the mall to restaurants to school, my mom beamed with pride as family, friends, and strangers marveled at her work.  
The night before Easter Sunday that year, my mom turned on The Ten Commandments on ABC, parked me in front of her, and began the process of a new look – a three-tiered collection of ringlets. Her biggest challenge yet.
She used the sharp end of a teasing comb to separate equal chunks of my wet locks that she then generously coated with Dippity Do.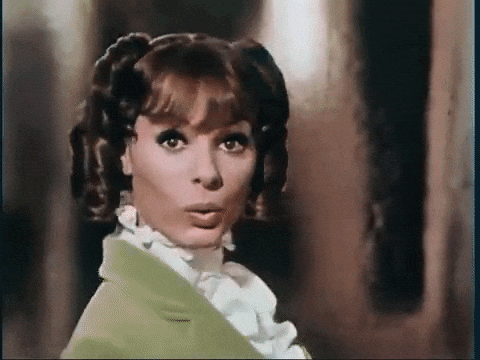 This would give lasting structure and shine to each curl. In crafty terms – hair varnish. She then lovingly wrapped each one around a pink plastic roller. 
By the time Moses hurled those stone tablets over the cliff at the people, my mom had slipped a plastic covering the over my little head and kissed me goodnight.
Side note –  Have you ever tried to sleep with 30+ plastic rollers tugging at your scalp? It hurts!
She awoke me in the morning for the big reveal. Just like prepping the Easter ham and setting it aside, my mom prepped me as well. She removed the cap, the rollers, and marveled at the springy perfection of bouncy ebony coils.
Her masterpiece – complete!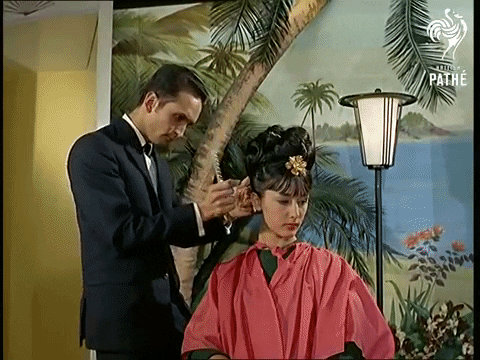 She licked her pinky, smoothed a stray hair and sent me to sit tight in the family room so she could groom the rest of the family for mass. 
I don't remember how I ended up lying on the backyard hammock with my hair swinging like a mop over the edge of the canvas. I do remember my cockapoo, Spunky, jumping into my hair and scratching away.
I raised my head to lift his little body as he hung on for dear life. He'd loosen his grip and we went for another round. And another. I giggled until I heard a shriek of horror from across the patio. Something horrible happened! Did Nana fall? I jolted off the hammock to find my mom cussing at me. 
"Your hairrr!" she cried. 
"It's just hair, Mommy!" I said, examining my reflection in the arcadia door. Wow, Spunky sure did a job on me.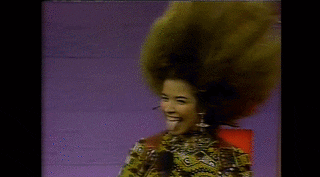 He had teased my do into a giant bushy tumbleweed, garish enough to make Lady Gaga jealous. In a matter of moments, I went from being a Shirley Temple to a mini Rosanne Rosanneadanna.
My poor mom had no choice but to whip my hair up in a chongo on top of my head and call it a day. 
That experience stuck with me my whole life.
My little brain processed it as – Contained curls = beauty, love, admiration. Tousled tresses = sloppy, ugly, and messy.
Soon after, my little sister came into our lives and Auntie Linda cut my hair just above my ears. Mom didn't have the time to keep my crazy mane in order and manage a newborn too. And I didn't have the will or the skills to take over. The market didn't have curly hair products back then, and society sure didn't exactly embrace the natural look.
My heart sank a bit.
I knew I'd lost the power and benefits of pretty hair.
My pride.
I never gave my hair another thought until junior high when my classmates asked to touch it and asked, "Ew. Why does it feel so wiry?" Or why it didn't feather like everyone else's? Why didn't it blow gently in the wind? 
Ugh, from that moment on, I detested my hair.
While everyone else's grew down and flowy, mine grew out in bulk and lumps. The only way to contain it was to keep it cropped tight, even if it did mean I'd get mistaken for a boy. 
Thank God for curling irons and blow dryers, which I discovered in high school and used faithfully well into my early 20s. Finally, follicle domination on a daily basis! 
Then, first-love happened!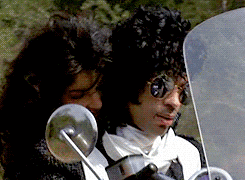 He told me my glossy black waves attracted him like Prince to Appolonia. And when he broke my heart three months later, I had no choice but to chop it all off to spite him. Yeah, that sure showed him!
Actually, he didn't suffer, but I sure did! It only made the pain cut deeper because not only was I now single, but I had the ugly boy haircut again! 
"It's just hair," my mom said. "It'll grow back."
Well, I couldn't wait. In 1988, big hair was everything. So I did want any sane brokenhearted chica would do. I went to my neighborhood black hair salon with all of my rent money.
"Please give me hair extensions. Long, dark, twists to my waist!" I said excitedly. 
Seven hours and $500 later, I transformed into the Wild Woman of Barcelona! My crown of newfound ringlets flowed wickedly around my face, body, and spirit. And for two whole weeks, I had more guys hit on me than in my entire lifetime. 
Oh, and the reason it lasted only two weeks?
Because no one told me how much all that hair weighed once it became wet. Imagine a pet wooly mammoth stitched to your head. One does not simply lather, rinse and repeat. The lather never goes away no matter how much you rinse, and repeat? Um, ain't gonna happen. I ended up with a raging ear infection because of all the water that became trapped when I tilted to rinse.
I marched to my neighbor's apartment with a pair of shears and handed them to him. He sat me down and cut my extensions into a bob. The next day I had to pick up a friend from the Greyhound bus station. Sitting alone on a bench in a busy public place gives one time to reflect.
At that moment, I realized those stupid hair extensions couldn't fill the void in my heart. I needed them gone. Immediately.
So, right there and then in front of dozens of grossed out bus terminal onlookers, I pulled out my hair!
I used my fingers to unstitch the extensions that were sewn into braids around my scalp. As each row lifted, so did my mood. Then I folded them neatly and stuffed them in my purse.
And…we're back to cropped hair. 
But I left it alone. I wanted to start from scratch. I wanted to rely on my personality and push through the lifelong baggage of vanity and forced beauty. I told myself I would shine from the inside out, well, with the help of big earrings and red lipstick. 
It took a few years, but I let it grow and do its thang. It expanded out… and out… and out.
A ginormous halo of frizz and fuzz and I loved it. I embraced being "the lady with the big hair." I loved that you could stick a brand new pencil into my hair and you couldn't even see the eraser at the other end. And I took silent pleasure hearing little kids cry when they sat behind me in movie theaters. 
My hair became such a statement that my family began to worry. One time at my uncle's house, he pointed to the Spanish-language newscaster with the shellacked version of The Rachel and said, "Kathy, you need to do your hair pretty like hers, that way you can get a boyfriend."
And the time at the newspaper when a reporter accidentally sent me a joke on instant message about my big hair instead of to his friend.
No cares.
I refused to conform. And you know what? That guy who broke my heart so many years back? We married. And he grew dreadlocks. Between both our massive styles, our poor shower drains didn't stand a chance. Within the 29 years of our marriage Patrick has rescued the following from my hair: a frightened baby lizard, a sticky Charms Blow Pop, half-cured resin bottlecaps, various paintbrushes, pens, and even shredded cheddar cheese. 
It is just hair.
These days my curls have chilled. Regardless, life goes on and amazing memories are made. I wouldn't change any of my hairstory, not one trim or cut. It has its own personality, I want it to be free!
Well, except for the whole greying situation. No compromise. Someday when I'm passed away and a loved one makes a Dia de Los Muertos ofrenda for me, they darn well better put out a box of Excellence by L'oreal.
Dark Brown, #4, por favor.
RELATED:
BLONDE AMBITION: My misguided advice on lightening my daughter's hair