Danny Trejo, Chicano, Hollywood actor, all-around badass, and entrepreneur is celebrating a birthday Saturday, May 16th. Known for his roles as the bad guy, Danny is an icon in his own right and a successful businessman too if you didn't know.
Join us in wishing a Happy Birthday to Chicano actor and Entrepreneur Danny Trejo!
The Iconic Films of Danny Trejo
What an awesome GIF! It shows some of the more recognized films of Danny Trejo. Danny has over 400 IMDB film credits in his profile. Incredible for someone who started acting at the age of 33. Most recognized with his rough exterior, Trejo could be considered type-cast as the bad guy since his trajectory as an actor includes characters by the names of knives or sharp objects.
Here's a couple: in Spy Kids, he was Machete. In Dusk til Dawn he was Razor Charlie, in Desperado he was Navajas (or pocket knives in English) and in Predators, he was Cuchillo (or knife). Isn't that something?!
There are so many ways to say knives in Spanish right?
Here's a quick montage of the iconic films of Trejo.
I totally forgot he was in ConAir! I recently rewatched National Treasure, I might have to watch ConAir this weekend. I digress- Here's a great video he did with IMDB. I really enjoyed watching this. He's such a great sport when it comes to trivia.
Television, Animated Voice Overs, and Video Games
His television acting spans from 1990 to the present day, so Mr. Trejo is keeping busy. Wow, this I did not know. Per his Wiki page, Danny was on an episode of Baywatch! Now I feel the need to go look that episode up. Look no further, check out this still from IMDB.
He was a villain in one of my favorites shows, Alias and while he's never been on The Simpson's he was animated for The Cleveland Show! And he was also in King of the Hill. So many of my favorite shows and honestly this isn't the half of them. 2020 will continue to bring us animated Danny too. If your kids are fans of Cartoon Network's Victor and Valentino– make sure to watch out for the "Lords of Ghost Town" episode.
His video game voice over rolls include some pretty outstanding games: Call of Duty: Black Ops and Black Ops 4, Grand Theft Auto: Vice City (I think this was an obvious choice) and Fall Out: Las Vegas.
And of course! How could I NOTE mention, his iconic role in Sons of Anarchy! Romero or "Romeo" as a former Mexican military commando turned a high-ranking member of the Galindo Cartel.
The Entrepreneur
Many aren't aware that Danny has built quite an empire in the food and product industry as well. If you are in LA and have a sweet tooth, visit Trejo's Donuts in three different locations in LA. They are all currently closed due to the quarantine, but I'm sure they will be opening up as soon as the coast is clear for businesses. Tacos anyone? Yes, you can enjoy delicious Trejos Tacos in the LA area. Lucky Los Angelenos can still pick up in the La Brea, Hollywood, and Westside locations. But us non-LA folk can still enjoy Trejos tacos while in quarantine as they ship nationwide via Goldbelly.
Yes, by the looks of the menu we would all be "chumpandonos los dedos!" What an eclectic menu. The packages that are available to ship are a little pricey, so maybe I'll just hold out until the next time I'm in LA. That will be a while, but I'm willing to wait so then I can have a donut for dessert!
Here's a bit of trivia – did you know Danny had a small role in Mi Vida Loca?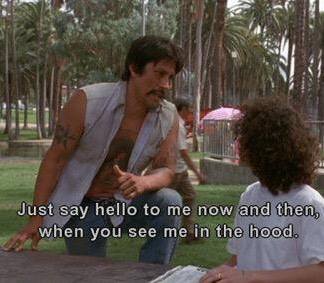 And in trying to see if they could warm his heart, the cast of Buzzfeed's Pero Like surprised our favorite Machete with….PUPPIES!
And earlier this month, SNL's Pete Davidson made a song dedicated to him! 
This video pretty sums up the badassness that is our beloved Danny Trejo!
Thanks for celebrating with us! What is your favorite Danny Trejo movie – or enterprise? As for us, we plan to visit his donut shop next time we are in Los Angeles, you should too!
Candy!