Here is the meaning of marigolds for Dia de los Muertos. I've put some info together for you, as well as a free marigold paper flower printable you can use!
Before we go into the craft, let's chat about this beautiful flower that is used in celebrations all over the world!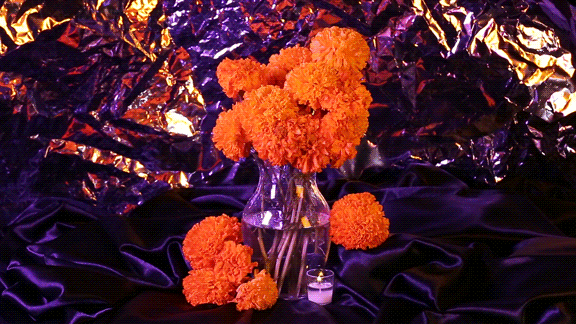 Did you know marigolds were originally called Mary's Gold? Named after the Virgin Mary, it is known as a cempasuchitl – flower of the dead – in Mexico. Marigolds are essential in the celebration of Dia de Los Muertos (Day of the Dead). I've always thought marigold flowers look like fluffy pom poms. That makes them a crafter's best friend – the DIY possibilities are endless!
Family members of the deceased build sentimental altars in their homes, and in the cemetery where their loved ones are buried, to pay homage to their lives. Rather than grieve their loss, they celebrate the lives of their loved ones. The ofrenda (altar) is accented with bright orange and yellow marigold flowers.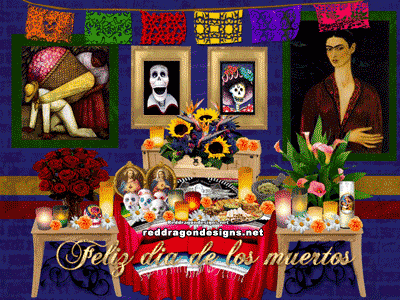 About the flower.
There are around fifty species of marigold flowers! African marigolds, American marigolds and/or Mexican marigolds species grow up to three feet in height. This makes them the tallest marigold species. This variety also produces large full flowers – even in drought-like conditions. They thrive, even in the craziest of situations, and are easy to care for. Personally, I love the metaphor of this. Marigolds are strong and resilient. Like all of us!
Here is another source to learn more about the meaning of marigolds for Dia de los Muertos: Why marigolds, or cempasúchil, are the iconic flower of Día de los Muertos, by NPR
Where marigolds grow.
Marigold flowers are native to South and North America. Portuguese sailors discovered these flowers in Brazil more than four centuries ago and spread them throughout the world. Marigolds are also famous for their petals which contain natural pest repellant averting mosquitoes and other insects. Because of its strong fragrance, orange and yellow colors, and its ability to ward off insects, Marigolds were grown in the continents like Asia and Africa in big quantities.
About that smell!
The actual scent comes from the stems and foliage, not the actual flower. If you want to have the smell, leave on the leaves. If you are making a bouquet and don't want the smell, then strip away the leaves. For larger blooms, you may want to wire the flower to the stem because it is hollow closest to the bloom. After a short time, the flower's weight will cause it to bend.
The meaning of marigolds for Dia de Los Muertos
The Day of the Dead is one of the world's most festive traditions. This tradition to honor and remember the dead goes back to around 3,000 years in Mexico. Dia de los Muertos is celebrated in Latin countries and wherever Latin communities are living in the world from 31st October to 2nd November.
Marigold flowers play a very important role, mostly because of the strong scent. It's believed the dead can smell the aroma from the afterlife and use it as a way to return home.
On an ofrenda, marigolds also represent the sun.
If you're like me and make several ofrendas each year, you'll know how fast these flowers sell out! Sometimes you can't find them at all. That's why I have different ideas for making them (tutorial at the end of this post). To keep up with demand, the cultivation of marigolds is the primary business of many families.
Some people place a few marigolds at their ofrenda, and others use dozens and dozens! As with other elements of the ofrenda, marigolds represent LIFE. As a way to keep up, you can buy faux marigolds in long strands. That's what I do, I'll save the real flowers for the actual ofrenda and the fake ones for external decorations.
Marigolds and life.
The fragility of life is also symbolized by these flowers. Even though they are resilient where they grow, they bloom in early summer and die at fall's first frost.
Keep your cut marigolds in water to make them last longer, if left out, they will begin to wilt within a day.
Free printable! Mini-marigolds!
I designed this printable for HP, they have a fun craft section on their site with all kinds of activities. I created four different Muertos projects for you to print and try! I'm impressed at this one!
Free printable – marigold flowers
For personal use only, not for commercial or profitable use)
Thank you so much for reading my post about the meaning of marigolds for Dia de los Muertos! And I hope you enjoy the free printable!
The meaning of marigolds for Dia de Los Muertos: Here are some other marigold projects you can try!
https://craftychica.com/2016/10/muertos-mural-diy/
I hope you enjoyed my post about the meaning of marigolds for Dia de Los Muertos!