If you're like me and have a bin of appliqués, maybe it's time we open the box and send them out into the world. Hence, this article about creative uses for appliqués!
My box was overflowing with sequin and embroidered appliqués I bought in Mexico City last year. It's so hard to part with them, I wanted to make I made projects that served them well. Big and bold!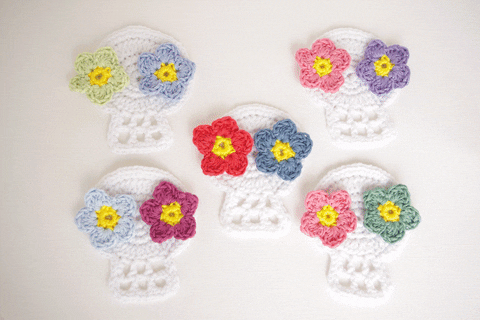 Whether they are fabric, crochet, or my fave – sequin, here are some fun ways to incorporate appliqués into your crafts
How to apply appliqués
Before you even start with projects, know that you always must consider the "this to that" process. For sequin versions, if you are applying to fabric, it's best to stitch them. If it's a big jacket, I'd stitch by hand, but for smaller projects you can use your machine with a heavy-duty needle.
Thick to thick, if both facing sides are porous, you can use heavy duty adhesive, like E6000.
I never only use the iron-on backing on appliqués, they always peel off! If you are using them on items you are selling, go the extra step and make sure they are nicely secured!
For lighter weight fabric appliques applied to lightweight fabrics – a heavy Heat N Bond will do the trick!
If you are wanting to work with jersey fabric, make sure to use interfacing or Heat N Bond adhesive fusing.
This bag is made of straw, there's no way I would stitch without creating damage, so I used E6000 to apply all of these!
It came out fabulous!
Liven Up a Plain Bag
You can look at thrift stores, discount department stores, or even in your own closet for purses, totes, messenger bags, even fanny packs. If there is a nice open space – go for it!
Frame your appliqués!
I came across a chunky wood frame at the thrift store, so I brought it home and reworked it with gold paint, gold glitter and painted roses. I left the original painting inside and then affixed the appliqué on top. Now I want to find a piece to go at the top of the frame!
Make your own appliqués from your fabric stash.
1. Cut out your image with pinking shears. Lay the fabric on top of a contrasting piece of fabric.
2. Stitch it in contrasting thread on your machine or by hand with embroidery thread. Only stitch half way around.
3. Add a pinch of batting or fiber stuffing and stitch up the other half.
4. Sew onto a fabric collage, shirt, jeans, etc!
For this one, I used sticky back canvas and painted my own designs, then applied them to vinyl wallets.
I used Peel N Stick adhesive for this and created a sort of collage from images from one of my favorite fabrics. Then I accented with fabric markers.
I picked up some pot holders from Target's Dollar spot and used embroidery thread to stitch on fabric cut outs.
T-Shirt Appliqués
From around the web!
Check out appliqué purses I've made!
Thanks for checking out my post!
Click here to sign up to receive my blog posts in a weekly email!