Welcome to my hand-built pottery mugs 101 post! I just finished my second batch of hand-built bugs using low-fire clay. I love how they came out perfectly imperfect! I'm still steep on the learning curve but thought I'd share my journey.
It is definitely a process. I look on Instagram and get inspired – and then depressed. I still have a long way to go – you know, that 10,000 hours thing that makes you an expert? But the only way to get there is to keep practicing!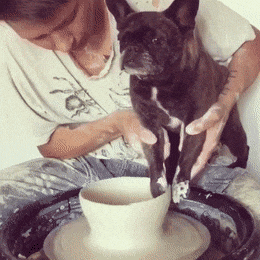 If you are a newbie like me to hand-building mugs, let's do this! And if you are a pro, then please don't judge. We're getting there, okay?
I don't have a wheel or a slab roller, but lacking tools never stopped me before. But I do have a kiln! If you don't have a kiln, check out your local pottery studio or even community center for ceramics classes.
SUPPLIES for hand-built pottery mugs
Low-fire clay
Craft knife or scoring tool
Slip
4″ round cookie cutter
Rolling pin
Two wood rulers, flat
Water
Cooking cooling rack
Plastic covering
The first step is to cover your work area with canvas. Then set down the two rulers (mine is a yardstick broken in half). Condition a ball of clay and then press it flat between the palms of your hands. Set it down between the rulers and roll it flat.
TIP: It cannot be thinner than your pinky, it will be too fragile and break. And it can't be thicker than your thumb because then it will need a hole for moisture to escape and it will expand and break. I always use these sticks and have never had either problem.
Use the cookie cutter to cut out a base.
Repeat the above to create a 3″x12″ slab that will be the wall of your mug.
At this stage, if you want to use cling or rubber stamps to make impressions on the outside wall for your mug, do it now. It will press out your clay, so you'll need to cut a bit off in the next step.
RELATED: Kiln tips for newbies!
Build the mug
There are two ways to go about this. I've done both and can't decide which I prefer.
The first way is to score the outer sides of the base and the lower inner side of the wall. Use a paint brush dipped in slip and add it to the scores. Then carefully wrap the wall around the base until the two ends meet. Cut away excess. Score the sides of the ends and mesh them together carefully and neatly.
The second method is to score the outer top area of the base and the bottom of the wall slab. This will make your mug more narrow.
Embellish
At this stage, you can score other small pieces to add on or let it dry a bit and then carve into it. It will take several hours to cure to a leather stage. I usually cover mine with plastic for a bit and then make roses and leaves and then go in and add them. Again, scoring and slipping along the way – if you do not properly score and slip, your pieces will fall apart as they dry. I've experienced this!
Always keep your pieces covered with plastic, otherwise, they will air dry too quickly and curl and bend.
You can insert a plastic cylinder to help it keep a round shape.
Handles
Eek! Handles are the most troublesome. But there are ways to make it easy. Pinch off a piece of clay and roll it into a narrow piece. Use wet fingers to pull the clay to the desired look for a handle. Once you have a handle you like, audition it on the mug to check for height, and if your fingers can fit through nicely. Attach it the same way to you connected the slab to the mug base.
TIP: Do not wait too long to attach the handle or embellishments. If you add wet clay to dry clay, it will crack.
Fine tune
Let your mugs rest under the plastic for a bit, then take them one by one and use water and a sponge to shape the top ridge. You want it to be round and smooth and soothing to drink from. Also clean up where you handle it, and where all edges connect.
Wait until they are bone dry to greenware stage, then fire in your kiln at cone 04 on slow speed.
After they are cooled, remove from the kiln and now you have bisque mugs! Use your favorite underglazes to add color, then clear glaze. Fire again at cone 06 on medium speed.
Here is another version of making hand-built pottery mugs!
Love & light,