Want to know more about DIY handbuilt mugs? I thought it was a good time to share new tips for ceramic hand built mugs.
I've been making my hand built mugs for several years now and I finally feel confident in the process.
So much that I even thoroughly cleaned out the garage, preordered an industrial slab roller, and a pottery wheel too! I am ready for mass production.
Just kidding, I want to enjoy the process!
I LOVE ceramics and making handbuilt mugs
It's one of those crafts that is so classic and there is a never ending list of ideas of items to create.
Here is a recent process video I made of a mug.
https://www.instagram.com/p/CY7P5o3g0Y0/
Tips for handbuilt mugs

I'm going to make this list according to questions I am often asked!
Every time I make and share my mug photos, I notice there is a lot of interest and it can be confusing. I'll do my best to break it down!
There is a LOT to cover, but here are some basics.
Can I use air dry or polymer clay to make mugs?
For decorative use, yes. But to actually drink from – no.
They need to be food safe, so you would have to visit a local paint-on-pottery studio or take a ceramics class in your area so you can use a food safe glaze.
I have a Skutt kiln in my garage to fire my mugs. T
his is my model and I love it. I've had it for several years and it is a beloved member of the familia!
When I first set it up, I had an electrician come out and convert one of the garage outlets for use with not only one kiln, but a second, just in case I ever want to grow my studio.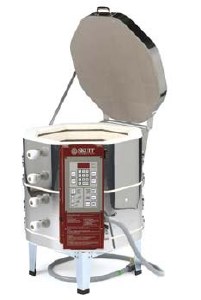 Do I have to have a slab roller?
No!
How to cut clay slabs for handbuilt mugs
Set out a large piece of canvas and line up two yard sticks about 12″ apart from each other.
Slice off a hunk of clay and wedge it into a ball and use a rolling pin to flatten the clay until it is even with the two sticks.
However, if you have a sturdy table, you can use this method below.
The only hesitation I have with this is it REALLY tires out your arms.
So does using a rolling pin, but not as hard or fast as this method. Then again, exercise is good, right?
RELATED: DIY Ceramic Portraits (You Can Also Use Air-dry Clay!)
How can I get the surface smooth or imprinted with designs?
You can choose from different textures for your hand built mug, that is the fun part.
If you work on a canvas-lined surface, you'll see the grooves of the fibers in your finished piece. If I don't want this look, I'll use a sheet of paper and smooth it over the wet clay.
For a pattern, you can use embossed rolling pins, stamps, toys, cling stamps, fabric, wood carvings, etc – anything that makes an impression!
I've just discovered underglaze transfers, I'll have a post on those soon!
How do I make a handle for handbuilt mugs?
Oh my gosh – handles were always an issue with me.
It took a lot of practice and patience. I watched a gazillion videos, but nothing prepared me better than trial and error.
For the first year of making hand built mugs, I gave them away for free because I didn't feel they were worthy of selling.
So much imperfection! But I have no regrets because that is how we learn, right?
What I do: I cut a template that measures about 1″x4″ and I'll cut it to fit.
I roll it out between the yard sticks to make it even, then I smooth the edges. I'll do a separate post on this as well, it's a process!
https://www.instagram.com/p/CY1nkuCMRCN/
How do I know what size to make a mug, do I need to buy a template?
This is much easier than you think! If you have no tools or templates, make your own.
Use a measuring tape to measure the size of your favorite mug, say 4″ tall x 8″ wide (wrapped around in a circle), then cut out a piece of poster board in that size to use as a template.
Once your slab is rolled out, add your stamped designs if desired and then place the template on top and cut away the excess clay.
https://www.instagram.com/p/CV6t63eFqhI/
How long does my mug have to dry before I can paint it?
Once you finish building your mug and you've added the handle, cover it loosely with plastic until it is leather hard. There are specific glazes you can use before you fire to bisque or after.
I use low fire clay, if it is a stamped mug, I might add Mayco Foundations for the base color and then after the first firing I'll add a wash to go into the grooves of the imprinted designs, and then fire it again.
How do I make sure the pieces I add don't fall off?
You will need slip (clay liquified to a creamy consistency) and a scorer of some sort. You can use a craft knife if you don't have a scorer. Every time you want to add something to your mug, score the are areas where to the pieces will meet and add a bit of slip on both – wet to wet. Press into place.
What if it my hand built mug doesn't look perfect, like a wheel made mug?
That is the BEAUTY of hand built mugs – they look hand built! It's what makes them so special, the imperfections. So give yourself space to learn and experiment. Play around with shapes, sizes, handles. I feel like my mugs are boring, I'm ready to level up and try some new designs! So just PLAY.
There are other areas I haven't covered, like adding the bottom and smoothing the top – I'll create a second post about that! I know this is a lot of now! I hope these tips for ceramic hand built mugs help you become inspired! The main takeaway – push through your fear and make some hand built mugs!
https://www.instagram.com/p/CPHMfoeFUew/