RELATED: Thanksgiving crafts and activitiesHola, queridos! Are you ready for Mexican-inspired Thanksgiving ideas?
Mexican-inspired Thanksgiving ideas
Now that I'm officially a "Nana Chica," I have this urge to host my own Crafty Chica style Thanksgiving dinner in our humble casita. I'm talking a Mexican twist!
I'm sharing it with all of you, and these ideas are for home cooks of every skill level. (I'm not known for my cooking, let's make this easy!) There is so much craziness happening in the world these days, I need to be close to my loved ones.
All the feels
If you've read my posts in the past, you'll know Thanksgiving is one of those holidays that triggers my emotions. It used to be the biggest family gathering on both my side of the family and Patrick's.
And it always involved Mexican food at it's homemade finest! Thanksgiving was one of those holidays where no one had an out. Attendance was REQUIRED.
We literally toured four houses in one day, kids in tow, just to see everybody. Ate as much stuffing as possible before we carb crashed. It mostly centered on visiting our grandparents.
And of course, LOTS of eating. I loved how our elders combined our beloved Mexican culture with American traditions.
Once our grandparents passed away, the Thanksgiving sibling festivities sprouted into different little sections. We each kinda went our own way for the holiday. I missed my dad's juicy turkey and even my mom reminding me to deliver the mashed potatoes on time!
From a green bean casserole to butternut squash to yummy leftover recipes – our family had it all covered. Not to mention the conversations, laughter, even tears sometime. And cleaning everything up, talking about plans for Christmas.
I miss those special occasions
But guess what? We can change our holiday season's agenda at any moment. Instead of dwelling on the past, I'm starting our first Thanksgiving feast in our own style.
'Right now' is always the perfect time! And of course, it will be a Mexican-inspired Thanksgiving!
I know it will start off cozy, but I hope to see it grow over the years. That way we'll have our own memories and stories to tell!
Hopeful but realistic
Mexican-inspired Thanksgiving ideas
I'm not sure I will be able to complete all of these ideas this year, but I'm definitely going to pull out several and then I will report back, so stay tuned!
Do you have any Mexican-inspired Thanksgiving traditions or Mexican recipes you plan to use? And by all means, if you have any ideas to add to this, we all our different styles, please leave them in the comments!
Turkey entrees:
Do we call this a fiesta turkey? A Mexican turkey? Okay, let's not worry about what to call it, let's just make something! To get this Mexican-style Thanksgiving started, let's bust out the turkey!
Here is the gold standard Mexican turkey…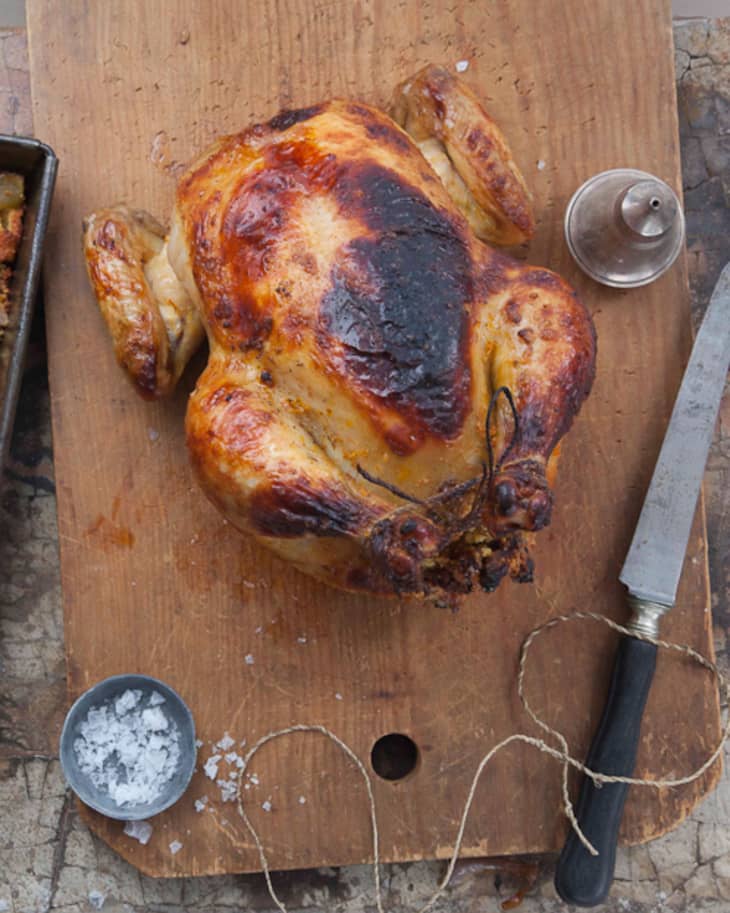 A roasted turkey is serious business so I'm going with Pati Jinich Treasures of the Mexican Table as my north star guide! Here is Mexican turkey recipe of hers.
Other ideas:
Turkey mole: Instead of traditional roast turkey, coat your bird in a rich, spiced chocolate mole sauce.
Add the chile! Chili-rubbed turkey or chili con limon turkey
Short cut: Use a standard roast turkey recipe and serve with a side of lemon to squeeze on top.
Tamales de pavo: Turkey-filled tamales that capture the essence of Thanksgiving and Mexican cuisine in one bite. A delicious way to celebrate both worlds, right?
Mexican side dishes
Esquites: Toasted fresh corn off the cob, mixed with lime, chili, and crumbled cotija cheese.
Mexican Turkey Stuffing by Mexican Food Journal: A flavorful alternative to tradition.
Turkey Stuffing – Mexican Style by The Other side of the Tortilla:
Spicy Chorizo Pistachio Pear Stuffing: My friend Nicole made this recipe and it looks incredible!
Chiles rellenos: Poblano peppers stuffed with a queso Oaxaca and other spices.
Salads & Appetizers
Mango Jicama Cucumber Salad: A refreshing salad with thinly sliced jicama, cucumbers, add the chili lime dressing and you have a hit!
Guacamole: You'll also learn how to make tortilla chips, as well as the guacamole!
Cottage Cheese Guacamole: This was a standard in my house growing up and it's so easy to make and it tastes delicious!
Salsa Borracho: This one is my favorite and easy to make, but you can also do a variety of fresh salsas like pico de gallo, salsa verde, and roasted tomato salsa to serve with fresh tortilla chips.
Thanksgiving-inspired Ceviche: Fresh seafood marinated in citrus juices with chopped tomatoes, onions, and cilantro.
More for a Mexican Thanksgiving menu
Breads are essential for a Thanksgiving meal. Here are some ideas!
Breads
Bolillos: These golden brown treats are a must. Pickup these rolls at a local panaderia.
Green chile cornbread: This is cornbread with a little kick to spice up your meal. This is a nice way to break tradition and offer something creative and tasty@
Butters – Try making chipotle butter. Have you heard of red chile butter? Neither had I until I found this recipe!
Corn tortillas and flour tortillas: Turkey tacos anyone? Why not? Here is my video about how to make corn tortillas. If I can do it, so can you! and check out this recipe for three-ingredient flour tortillas!
Mexican Torta Rolls: This are like sandwich rolls, which will come in handy for leftovers!
Desserts
Pumpkin empanadas: Turn the iconic pumpkin pie into bite-sized pastries.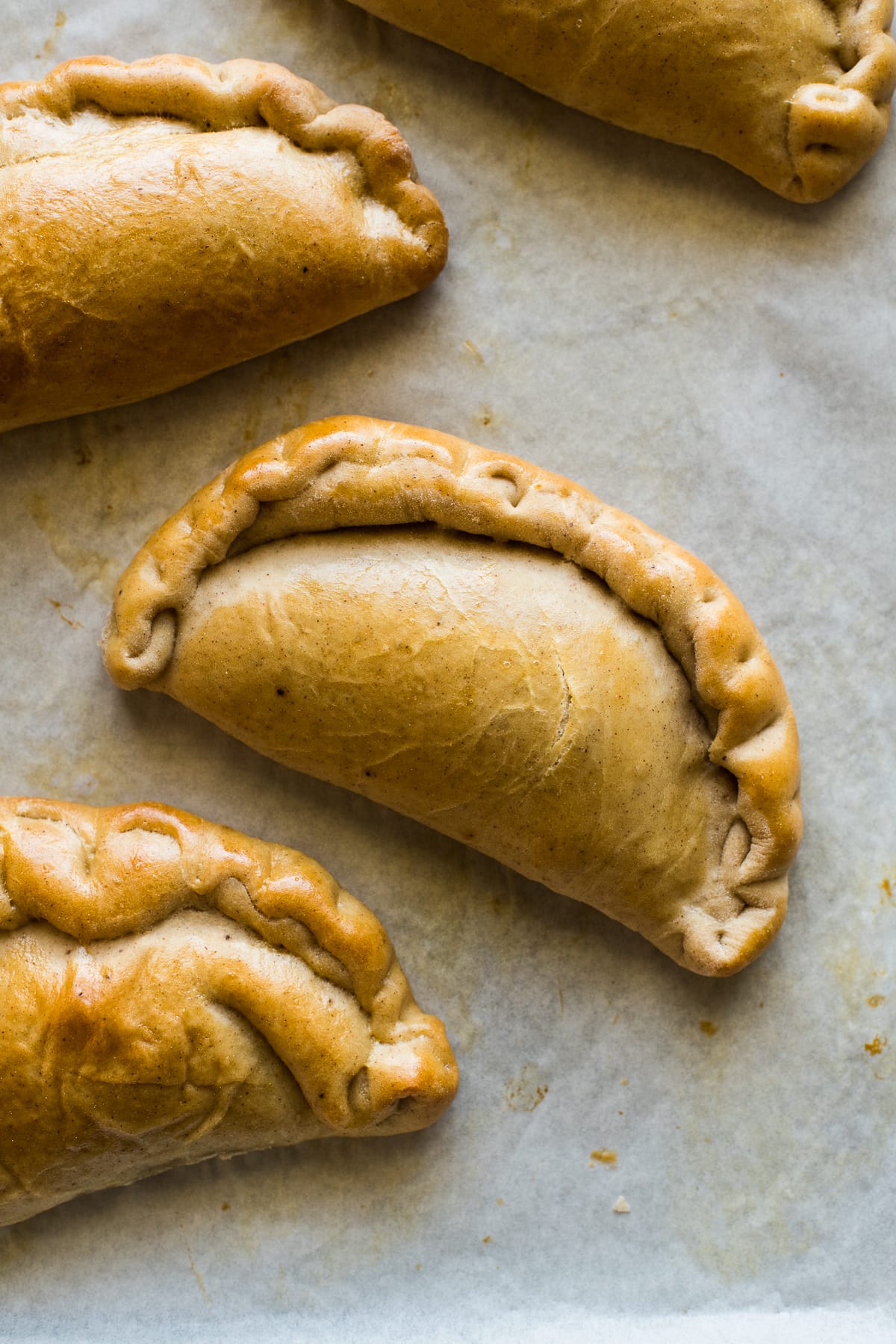 Churros with chocolate dip: Fried pastry dough sprinkled with cinnamon sugar and served with a rich chocolate dipping sauce.
Flan: A creamy caramel custard dessert you will love. yes, there is the classic version – but…check out these creative spins. My friend Nicole is the queen of flan recipes!
Pan Dulce: These Mexican sweet breads are lightly sweet and pair nicely with cafecito. Visit a local panaderia and pick up an assorted dozen.
Here are some of my ideas:
10 easy Mexican cookie recipes
Pan Dulce Snack Board + Mas Ideas!
Sour Cream Brownies With Mexican Chocolate
Drinks
Horchata coffee: A refreshing rice and cinnamon drink – use it as creamer for your coffee. Here is an iced version from Sweet Life Bake!
Tequila-spiked cranberry sauce: Add a splash of tequila to your cranberry sauce for an unexpected twist. Leave it to Rachel Ray to come up with this idea! Wild, but it looks good!
Agua de Jamaica: A hibiscus tea, which is both tangy and refreshing.
Topo Chico Recipes: Use this light, sparkling water with a dash of lime for a refreshing beverage.
With these dishes, you're set to host an unforgettable Mexican-inspired Thanksgiving that combines the best of both culinary worlds. Enjoy!
More Mexican-inspired Thanksgiving ideas:
Use old school Thanksgiving recipes and give them a Latin twist with Mexican ingredients. Even if it is just the name – sweet potatoes = papa dulce!
Add a secondary entree, such as mole poblano or carne asada.
Incorporate other Mexican dishes such as Mexican rice, calabacitas, fideo, etc.
Create a Mexican-inspired charcuterie board with goat cheese, queso fresco, manchego, cotija, etc.
Do I qualify as a Mexican chef now? Maybe not yet…However, with all of these ideas, you'll create your own Thanksgiving traditions, something different than a traditional Thanksgiving meal for sure!!
Thank you for checking out my round-up of Mexican-inspired Thanksgiving ideas! I hope this helps if you want to try a Mexican-style Thanksgiving this year!