This Friday is the movie we've all been waiting for – Ghostbusters!
I just returned from the screening and was about to write my review when I felt compelled to put a fun DIY round-up together to hold you over until Friday. I've been REALLY looking forward to this movie, I REALLY loved the original. Therefore, I included a lot of ideas featuring characters that are included in both films. Yes, there are many cameos  in the reboot and that's all I'll say about that right now.
Regardless if the new film is a hit or not, Ghostbusters is a beloved part of pop culture. So here we go, because we ain't afraid of no ghosts!
Click on the title for the link to each article!
This is the perfect treat to eat as you watch the original on the big screen in your living room (and eventually the remake)!
This will be cute to wear around Halloween or when you go see the movie at the theatre.
Get ready for an invasion of ghost-friendly party ideas, especially if you have a summer birthday to celebrate! This site has a long list of really creative projects for kids of all ages. I'm blown away by all the cool ideas here – click through to the article and you'll see what I mean!
Here's a version I shared a while  back, but if you want to make it glow-inthe-dark, here is another tutorial to try, by True Blue Me & You!
A cute drink idea that fits with the theme, but fast forward to 3:30 to get to the recipe.

Adorable! Perfect for a viewing or birthday party.
Because why not, right?
Not sure if you will want to make this elaborate display, but it's fascinating to watch this guy work his talent with perler beads!
So funny, she captured his expression perfectly. Hey, she has a pattern if you want to make one too!
Clever! Slime all your guests because they won't mind. The cupcakes will likely taste yummy!
Ashlee Marie is the queen of gorgeous cakes and here she shows why? This cake is too perfect to cut into!
These shoes were painted for one of the cast members of the new film. Loving the detail!
Great for cosplay or Halloween (or real life?), here's how to make a ghost trap.
I fell in love with this because it's so classic and clean!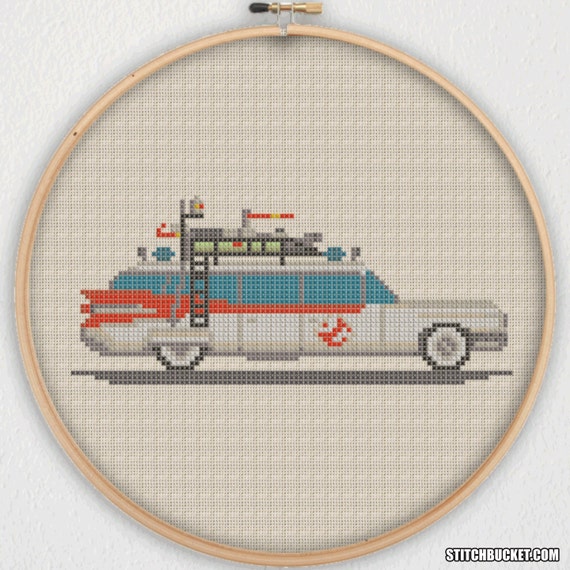 Ghostbuster Sugar Cookies
Sure, you can make these, right?
Stay tuned for my review on Friday!