Today is World Emoji Day, so why not make an emoji bracelet to show all your feelings? What did we do before emojis? We got creative with our punctuation! 🙂 But now our virtual expressions are limitless thanks to these modern day hieroglyphs. They've jumped out from our smartphones and into our daily lives via everything from fashion to food!
And of course, here in Crafty Chicalandia – CRAFTS! Photo credit: http://www.annehorel.com/ via giphy
How to get started making an emoji bracelet:
You can find the images online (I bought a bottlecap-size collage set on Etsy) to design your own custom dangly collection with all your favorite expressive faces. I found some sparkly bezels at the craft store and then pulled out my resin to give my bracelet a polished, professional look.
A big part of successful resin is removing those pesky gas bubbles. I used to blow them out by using a straw, but now I've majorly upgraded. You know what does the trick? A micro torch! I'll show you how. I used my Bernzomatic Trigger Start 3 in 1 Micro Torch ST2200  to achieve a crystal clear finish for my resin bezels.
SUPPLIES to make an emoji bracelet
Bernzomatic Trigger Start 3 in 1 Micro Torch ST2200
Goggles and gloves
Heat-resistant surface
Bezels
Emoji faces on glossy photo paper
White glue
Scissors
2-part resin
Print out your pictures and use a circle punch to cut them out. Depending on the size of your bezel, you may need to trim them down with scissors.
Apply glue generously all in the bottom of the bezels and place the pictures inside. Use a dry brush to seal them down, make sure there isn't an opening for the resin to seep under the picture.
Let the glue dry completely, and then mix the resin according to the package directions and carefully fill each bezel.
Can we stop to enjoy another emoji gif?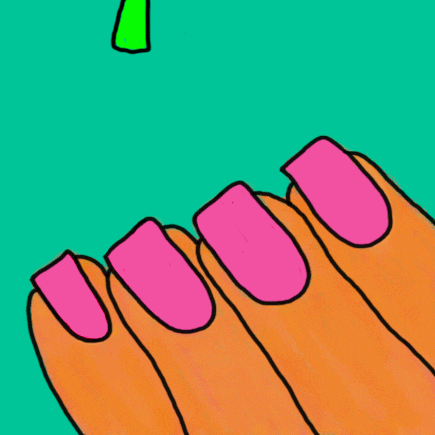 Okay. Thank you. anyway, where were we?
Oh yeah!
We just filled our bezels with the resin. Now is when you want to bust out your Bernzomatic micro torch. Read the directions, put on the goggles and gloves and set your resin-filled bezels on a heat-resistant surface.
I set the flame at medium and ran it over the tops of the wet resin. Then I let it sit 8-10 minutes, more gas bubbles floated to the top and I gave them another pass. I repeated this until all the bubbles were gone. I even let the bezels sit a while longer just to make sure no more bubbles appeared. I then let them cure overnight on wax paper, and the next day they came out so gorgeous!
RELATED: Things to Make With a Torch
If I wanted, I could easily remove these and turn them into six necklaces to give to friends. But for now, I'm wearing this baby!
It's a little big, huh? I love big and shiny and clunky and loud and oh, so EXTRA! Perfect for World Emoji Day! It's how I roll. But you can find small bezels or use small wood circles if you want a more petite style! I won't judge!
These are my favorite emojis, in order, I might add. I'm ready to go wear my emoji bracelet for World Emoji Day! You can read more about it here.
"Find Your Fire. There's a fire in each of us. Waiting to ignite. We believe in carrying the torch ignited by our founder in 1876—whose quality craftsmanship and progressive mindset are what blazed the trail that got us here today. We believe in awakening the innovators in all of us—inspiring a culture of creators who can break boundaries, mark new territory and go where no flame has burned before. We believe in empowering those who've found their flame and dare to follow it. Because the ones who do are the catalysts of bold transformations that redefine the limits of what we can achieve.   We believe in our fire and in your fire. It's time to ignite."