Are you ready to make some new concha earrings? Here's a fun idea that I know you haven't seen yet – use shrink plastic!
For those of you who have no idea about conchas – the term means "shell" in Spanish and in the context I'm using it, it represents the Mexican pan dulce (sweet bread). It's a lightly sweet pastry lined with a colorful cake topping that rises as it is baked, creating a beautiful treat for the senses!
Here is what I used for these earrings!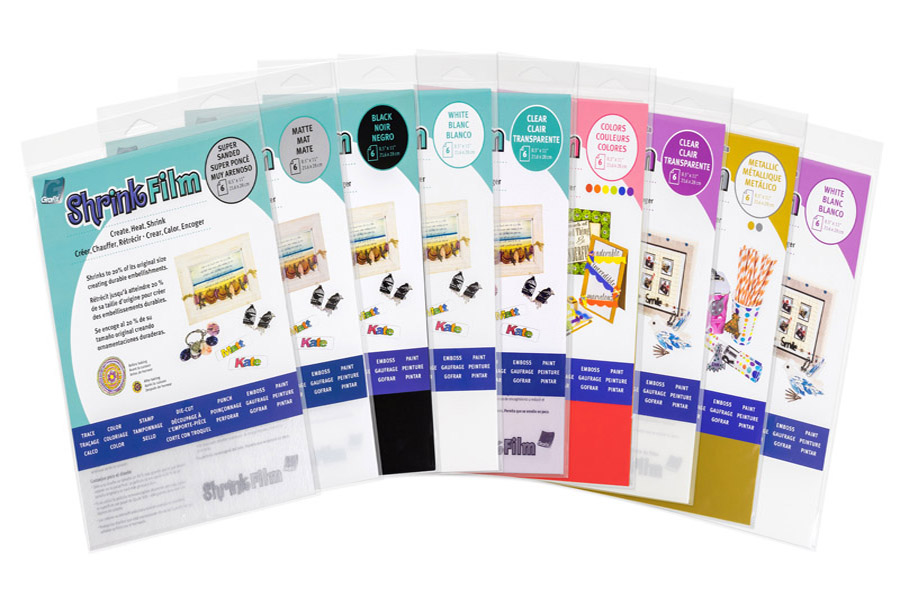 Last year I had the opportunity to work with GrafixArts at the Pinners Conference here in Arizona. I created some sample projects, demoed in the booth and then taught a workshop of the many ways to use the film. These earrings were one of the ideas I created and made, so I thought I'd share it here with you.
I even make and sell these at my Phoenix store, Mucho Mas Art Studio!
SUPPLIES FOR DIY CONCHA EARRINGS:
Shrink Film for InkJet printers
Image of a concha
Hole punch
Gold leaf pen
Plastic spatula
Heat-resistant surface
Heat gun
OVEN METHOD: Parchment paper and cookie sheet.
DIRECTIONS:
Take a hi-res picture of the concha pastry, then save it as a jpg. Use a graphics program like PicMonkey or Canva and arrange four-five images of the concha on an 8.5×11″ sheet. Make sure they are big, because they will shrink down. you can also lighten them up because once they shrink they will become much darker.
Insert the sheet of Shrink Film into your printer and print out the image, let dry for about five minutes.
Cut out the images and punch a hole at the top.
Work on a flat, heat-resistant surface and set down one piece, use the heat gun and spatula to guide and flatten the piece as it shrinks.
When it's finished shrinking, you can tell because it no longer curls up, then quickly place the spatula on top and press down. This will help it be flat and even.
Lastly, you can choose if you want to add varnish. I added resin and trimmed them with a silver and gold leaf pen. Add a jump ring and earring hooks. I also added some little stars!
STAY TUNED: I'm making new pairs using the heart-shaped conchas!
Hope you like this project, don't forget to tag me if you make these, I'd love to see them!
If you like this idea, check out my shrink film with resin tutorial!
Love & light,