Here are three reasons to watch Hubie Halloween now showing on Netflix, because we are all about the ghouls and goblins right now! Before I go into my review, I thought I'd add in some other clever Halloween movies I think you might like.
For me, I'm a WIMP when it comes to scary movies. I don't like slasher flicks or devil conjuring kinda features. But I do like family-friendly titles like Hocus Pocus, The Nightmare Before Christmas, Madea's Halloween, Addams Family, Ghostbusters, Halloweentown…you get the gist!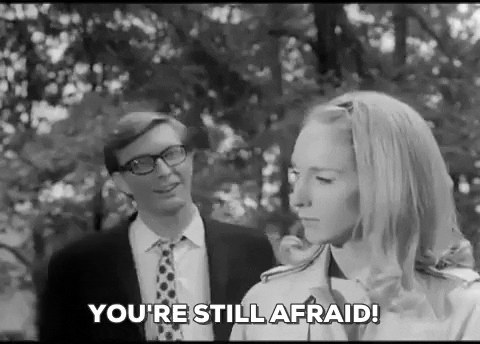 See, I told you, I'm a wimp! But I love celebrating all things pumpkiny! That's why I enjoyed Hubie Halloween – I have a lot in common with Hubie, the main character, played by Adam Sandler. He's afraid of anything and everything that pops or crackles. He startles easily. Same.
Silly Halloween fun.
This movie is LOCO – typical Adam Sandler fare. You'll giggle, gasp, and even cringe a few times from the jokes. I wasn't expecting to get into this story, but its kinda enchanting in the same way as a December holiday movie. Once you finish watching Hubie Halloween, you might be like me and think of it as Elf with pumpkins.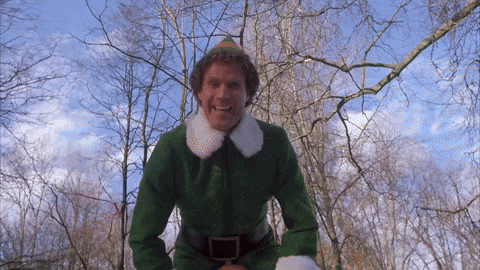 The story takes place in present day Salem. Hubie's family lineage dates back to the witch trials, as told to him by his mom, played by the delightful June Squibb. But Hubie isn't your average middle-aged dude, much like Sandler's other movie roles, he's overly daffy, naive, and constantly picked on by the locals. None of it phases him. His purpose in life is to protect the town that he holds dearly and proudly to his heart.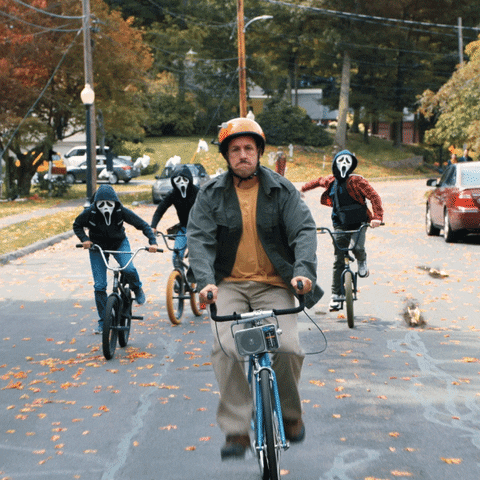 Halloween day arrives and the town is ready for the night's chilly adventures. Check out the trailer below:
It's a lil scary, but not too much.
Someone or something invades the town and causes some key personalities to disappear and Hubie sets aside his fear in order to solve the mystery, even if it means risking his own life. I kept reaching for the remote to fast forward through the scary parts, but I never had to, it's just the right amount of frights!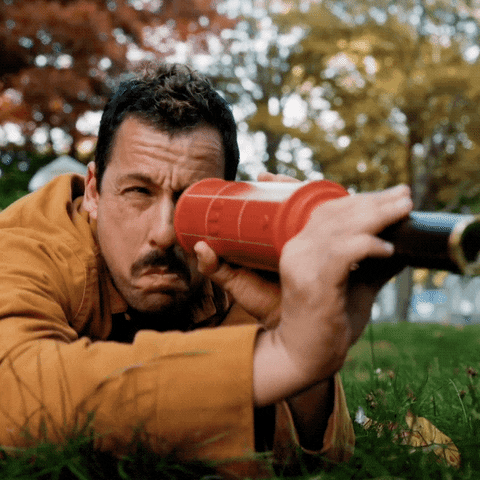 You'll love the cast of Hubie Halloween!
If the plot doesn't impress you, the cast will. It is chocked full of beloved familiar faces, most from SNL, and many from Sandler's previous projects. Maya Rudolph, Ben Stiller, Tim Meadows, Ray Liotta, Shaq, and Melissa Villasenor, Julie Bowen from Modern Family, Noah Schnapp from Stranger Things, Kevin James, y mas.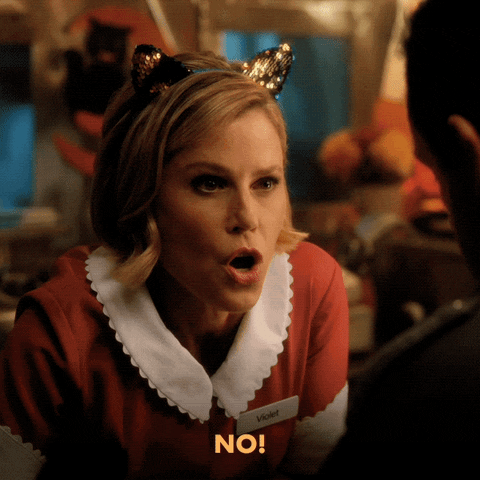 Hubie Halloween is goofy fun, only 90 minutes long and a great way to entertain the family (PG13) while you make popcorn balls, carve pumpkins, and DIY your costumes.
Think of this film as a holiday movie. The sets are magical, if you are crafty like me, you'll find mucho inspo at the decorations and costumes. Hubie Halloween is overly festive, so much you can practically smell the pumpkin spice through the TV! And there is twist at the end that will make you smile.
Check out the pumpkin carving Facebook Live I did to celebrate the film's release!
If you like Hubie Halloween, check out these others:
Lupita Nyong'o stars in this zom-com as a school teacher who becomes trapped – along with her students – in the middle of a zombie apocalypse. She pulls out her ukulele to entertain her class in a secret hideaway while the zombies munch on humans outside the windows. The laughs come from Josh Gad (yup, Olaf!) who plays a dubious children's entertainer. This one is fun, but it's also very gory. And the zombies are slow, which eases the tension a tad.
This is both a movie and a series, think The Office-meets-Interview With the Vampire. That's all you really need to know. Different personalities of vampires live together and have to deal with each other's habits and priorities.
Shaun of the Dead
I always add this one to my Halloween movie list. It was the very first zom-rom-com I ever saw and it felt so fresh and unique when it debuted in 2004. It's also a little bloody (the zombies gotta eat!) but the plot is fast-moving and I promise you'll giggle a lot.
Thanks for checking out my not-so-scary Halloween movie round-up. If you want creepy films, check out this list my son put together!
10 Creepy Films for Halloween
One more thing, if you are into scary/creepy/eerie/ghostly fare, watch The Haunting of Hill House on Netflix, along with the newly released Haunting of Bly Manor.
Thanks for checking out my post about Hubie Halloween!