Check out this delicious champurrado recipe, as well as other creative holiday hot cocoa ideas! No matter what the weather is in your area – December is always perfect for sipping on a steamy beverage. And when chocolate is involved – oh yes!
Champurrado recipe & other creative holiday hot cocoa ideas
The holiday season is just around the corner and there's nothing better than cuddling up with a warm mug of hot cocoa. We always have hot chocolate in our home, simmering in the slow cooker during the long winter months.
There are so many holiday hot cocoa ideas to choose from, so which ones are the best? I scoured the internet to find the best holiday hot cocoa ideas so I could share them with you in one, easy-to-find spot! Now you don't have to look everywhere, I did the work for you!
This year, take your hot cocoa game to the next level with some creative and festive hot chocolate ideas and inspo!
Grab your mug, fill it with some hot chocolate, turn on your favorite Christmas movie, and sit by the Christmas tree! There really is no better way to enjoy a cup of hot cocoa! Right???
All about Champurrado
Have you ever heard of champurrado? It is basically a fancy Mexican version of hot cocoa!
Champurrado and hot cocoa are both warm, chocolate-based drinks, but they have distinct differences in their ingredients, texture, and cultural significance.
The Mexican versions combines chocolate with masa harina (corn dough or corn flour), water or milk, and piloncillo (a type of unrefined cane sugar). It often includes spices like cinnamon and vanilla. The use of masa harina gives champurrado a thicker, almost porridge-like consistency.
Known for its thick, hearty texture due to the inclusion of masa harina, it is more filling than hot cocoa.
It is deeply rooted in Mexican culture and is often consumed during special occasions, particularly during Dia de los Muertos (Day of the Dead) celebrations and at Christmas time. It has a rich history and is often enjoyed with tamales.
There is a very complex flavor profile due to the combination of chocolate, spices, and the earthiness from the masa harina. It's often less sweet than hot cocoa.
Classic champurrado recipe
Ingredients
:
– 4 cups of water
– 2 cinnamon sticks
– 2 star anise (optional for added flavor)
– 1/2 cup masa harina (corn flour)
– 4 cups of milk (whole milk is preferable for a richer taste)
– 1 tablet of Mexican chocolate (like Abuelita or Ibarra), chopped
– 1/2 cup piloncillo (unrefined cane sugar) or brown sugar
– A pinch of salt
Directions for this champurrado recipe:
– In a bowl, whisk together masa harina with 2 cups of water until well blended and smooth.
– In a large pot, combine the remaining 2 cups of water, cinnamon sticks, and star anise. Bring to a boil, then reduce heat and simmer for about 10 minutes to infuse the water with the spices.
– Remove the cinnamon sticks and star anise. Slowly add the masa harina mixture to the pot, whisking constantly to prevent lumps. Keep the heat on medium.
– Add the milk, chopped Mexican chocolate, piloncillo (or brown sugar), and a pinch of salt to the pot. Stir continuously until the chocolate and sugar are completely dissolved and the mixture is smooth.
– Continue to cook on medium heat, stirring frequently, until the champurrado thickens slightly (about 15-20 minutes). Be careful not to let it boil over.
– Once the champurrado has reached the desired consistency, remove from heat. Taste and adjust sweetness if necessary. Serve hot in mugs.
– You can garnish with a cinnamon stick or a sprinkle of ground cinnamon on top for extra flavor and presentation.
Pair it your favorite pan dulce, and you have one sweet treat!
Other ideas for champurrado
Substitute the milk with almond milk, coconut milk, or oat milk for a vegan version. Use a vegan chocolate and ensure your piloncillo or sugar is vegan-friendly.
Experiment with different types of sweeteners like honey, maple syrup, or agave nectar instead of piloncillo or brown sugar.
Add more spices like nutmeg, cloves, or a pinch of chili powder for a spicier kick. Adjust the amount according to your taste preference.
Use different types of chocolate, like dark chocolate for a less sweet, more intense chocolate flavor or milk chocolate for a sweeter, milder taste.
Add a hint of nutty flavor by stirring in some almond extract or hazelnut syrup.
Infuse the drink with orange zest or add a few drops of orange extract for a citrusy twist.
Mix in a shot of espresso or a couple of teaspoons of instant coffee to create a mocha-flavored champurrado.
For a less thick and lower calorie version, reduce the amount of masa harina or use skim milk.
For an adult version, add a splash of rum, Kahlua, or Bailey's Irish Cream after cooking.
Incorporate seasonal flavors like pumpkin spice in autumn or peppermint extract during the winter holidays.
Creative Holiday Hot Cocoa Ideas To Try This Winter
From a delicious hot cocoa bar to savory meltable hot cocoa bombs and creamy hot milk chocolate, you will find some popular and trending holiday hot cocoa ideas, below!
Set up a hot chocolate station for your family and guests to enjoy. On a festive tiered tray, you can include different types of cocoa, toppings, and mix-ins like marshmallows, whipped cream, candy canes, and sprinkles.
Don't forget to include hot water and mugs (or mason jars!) for the hot chocolate! A hot cocoa bar is the perfect way to offer all the fixings to your guests so they can create their own delicious cup of hot cocoa! For more hot cocoa bar ideas, check out this blog post!
You can also have a little notebook at the hot chocolate bar where your family and friends can jot down their favorite homemade hot chocolate recipe! That way, you will end up with a little book of hot chocolate recipes for yourself! I thought this was a fun idea!
Flavored Cocoa:
Add some extra flavor to your hot cocoa by adding different extracts like peppermint, vanilla, or almond. Add a candy cane as garnish – here's an idea to make candy cane hearts! You can also try adding different spices like cinnamon or nutmeg for a warm and cozy flavor. I like to add a little maple syrup to mine every once in a while!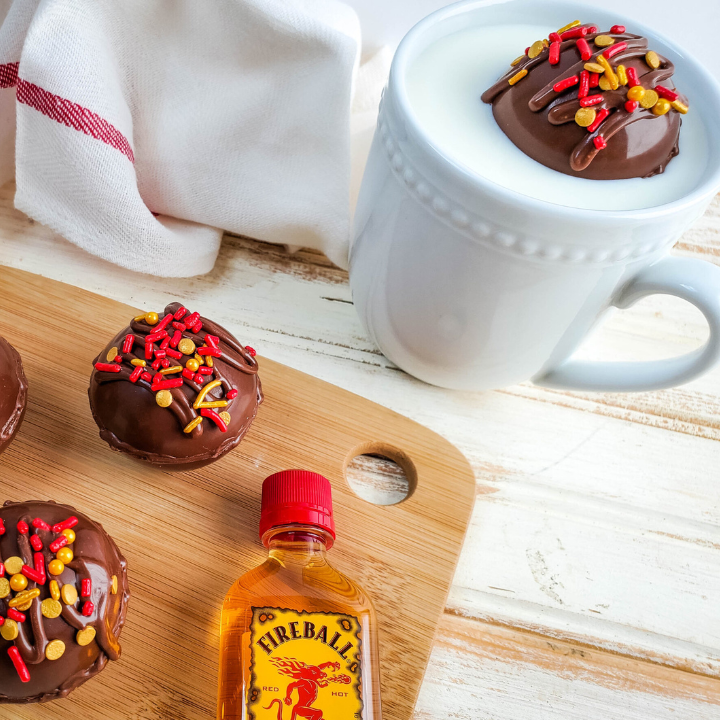 For the adults, try spiking your hot cocoa with a shot of your favorite liquor like Bailey's, Kahlua, or peppermint schnapps. Hey, adults need something too! Especially around the holidays when it is so hectic!
Hot cocoa bombs are a fun and creative way to enjoy hot cocoa. These are chocolate spheres filled with cocoa mix and marshmallows that dissolve in hot milk to create a delicious and creamy cup of cocoa.
You can also add in different flavors like caramel or peppermint. I used Abuelita Instant Cocoa – perfection!
Hot cocoa spoons are another fun way to enjoy hot cocoa. These are spoons dipped in chocolate and topped with different toppings like sprinkles, candy canes, or marshmallows. Simply stir the spoon into hot milk to create a delicious cup of cocoa.
Add a dollop (or four!) of Nutella to your hot cocoa for a rich and creamy chocolate hazelnut flavor. I also like to add some heavy cream to make it rich and creamy! YUM!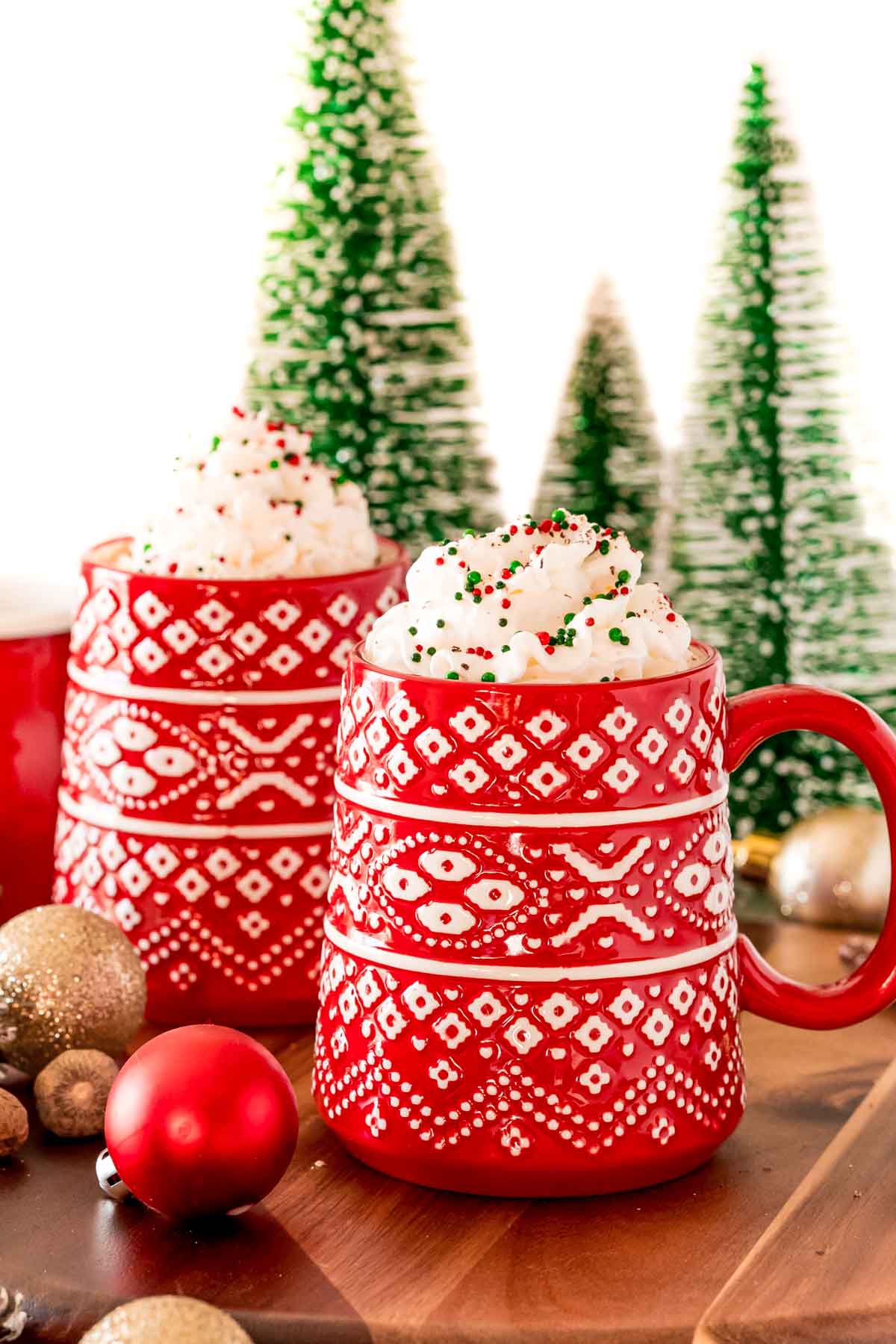 Combine your favorite eggnog with hot cocoa mix for a festive and creamy holiday drink. Add mini marshmallows to the top for an extra sweet treat! I found a yummy recipe for this, here!
For this red velvet hot cocoa, just add cream cheese whipped cream for the topping, and to the hot water or whole milk, add coarsely chopped white chocolate or milk chocolate chips, unsweetened cocoa powder, red food coloring, and a splash of vanilla extract! So good!
Top your hot cocoa with graham cracker crumbs, homemade marshmallows (or store-bought!), and chocolate chips (or dark chocolate chips) for a delicious s'mores-inspired treat. These croissant s'mores would go so well with this! Yum!
If you love Reese's peanut butter cups then this one is for you! Just add a spoonful of peanut butter to your hot cocoa for a rich and nutty flavor. Then, add chopped Reese's peanut butter cups on top of it! If you want it extra sweet, add some whipped cream too.
Use white chocolate chips instead of regular chocolate chips and add in some peppermint extract for a refreshing and festive flavor.
Add some caramel sauce to your hot cocoa for an extra sweet and indulgent treat. Top it off with your favorite toppings and sweet treats like chopped pieces of caramel candies!
Add some gingerbread spices like ginger, cinnamon, and cloves to your hot cocoa for a warm and cozy flavor. Add these chocolate-dipped gingerbread cookies and you have a delicious treat! Better yet, try this with the champurrado recipe!
We love hot cocoa floats! They are a fun way to drink hot chocolate and my kids love them! Add a scoop of vanilla ice cream, hot fudge, and other yummy toppings to your hot cocoa for a creamy hot chocolate float.
Champurrado recipe – hot cocoa style
You know I had to go there. Combine any of these to create your own version. Being Mexican-American, it is a beautiful thing to combine cultures and create new traditions!
These are just a few holiday hot cocoa ideas I found, to try out. You can get creative and have fun experimenting with different flavors and toppings to make your hot cocoa extra special! There is no wrong way to make a cup of hot chocolate!
There are so many ways to make your hot cocoa extra yummy this holiday season. Whether you're hosting a hot cocoa bar for your family and friends or simply looking to spice up your own cup of cocoa, there are plenty of creative and delicious ideas to try out.
From boozy cocoa for adults to hot cocoa bombs for kids, flavored cocoa, and more, these holiday hot cocoa ideas are sure to warm you up and are a great way to put you in the Christmas spirit!
I hope you enjoyed my post about holiday hot cocoa ideas and found a recipe (or some inspiration) to help you make your next cup of hot chocolate a little more festive and tasty! If you are looking for more delicious beverages, click that link!
Do you have a favorite champurrado recipe? Favorite holiday hot cocoa ideas? Please share in the comments below! I would love to give it a try! You can never have too many hot cocoa recipes and ideas!