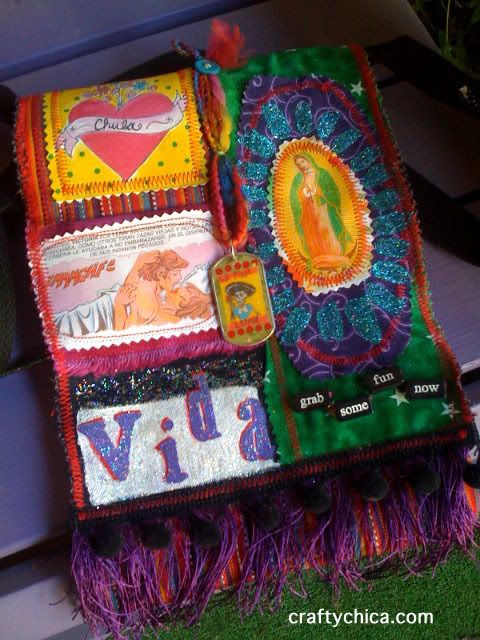 This is the first weekend in a LONG time that I've been able to take my mind off of work. Our art orders are done, the book is done, CHA is done.
So what do I do?
Art.
I made this purse today and it felt sooooo good. It's a cutie, and I want to sell it. $75. PayPal.
Any takers? First one to message me can have it!
It measures 8″ x 11″, and has a 36″ black strap. It is a fabric collage – meaning it is made of 8 pieces of fabric (one piece that I hand-dyed a while back), plus assorted pictures such as a painting of mine, a scene from a Mexican novela comic, and the Virgin of Guadalupe.
It is stamped with the word "vida" – meaning "life". I hand sewed word beads that say "grab some fun now". And then I used some imported French yarn to hang a resin on metal muerta dogtag that has one of Patrick's illustrations on it. And it is tricked out in teal glitter, plus a few other sparkles…
Oh! and it is trimmed with purple fringe and black ball fringe too!
The body of the bag (photo below) is from a heavyweight tablecloth.
UPDATE: This purse is sold!