We'll get to a bliss book in a sec…
The other night, my sister and our friend Ofelia came over to my house after sorting through Theresa's (my sis) storage shed. They were purging all kinds of evidence that would make my sister look like a hoarder. I'm talking heavy stacks of magazines, posters, old toys, JUNK! Theresa wanted to lighten her load on the inside and out.
As we stood on my driveway, Theresa pulled out her journal from 1994 and read The Saddest Poem In the World. About being alone. One of many she penned. She flipped the pages, cleared her throat, and was about to read another.
I stopped her because I couldn't handle hearing it.
Just when I was about to give her a perky lecture on whining, Ofelia spoke up and reminded me that Theresa's words were true and meaningful. It choked me up. I've been blessed in that I've found my soul mate, but my little sister is still on that journey. I tried to feel it from her side and tried to relate the best I could. It's like being trapped in a weird spot that you don't have full control over. Subconsciously you are waiting for someone to pull you out because you don't know (or think you don't know) how to do it yourself. You want to be found and be discovered, or noticed. To feel like you matter.
Sometimes you just can't do anything to make it happen (whatever IT is). For example, if you are single and in search of that perfect guy (my sister's is a NYC fireman!). Time passes and it's easy to get discouraged and started picking apart who you are. Our first thought is to add up all the short-ends-of-the-sticks we have stored internally.
I'm the kind of person who will go there for a bit.
I'll cry, eat, rant, cuss. But then I feel like I have to do something to help things tip in my favor. It's hard to stay mad or sad for a long time. And the frown lines!
So I make bliss books.
These are blank books that I fill with all the things that make me happy. It's a reminder that no matter what, I'll always have these things to look forward to.
Sure there are times when I'll say "Screw the bliss book, I want to be mad!", but after a day or so, I'm in there gluing or writing something.
A bliss book is an informal, personal way to identify all the positive things that come your way.
It's like a good karma scorecard. It's not a pretty scrapbook or art journal, it's simpler. It's raw. You don't need catchy, witty headlines, or fancy doodles. (But you can include those if you want!) It's just about writing down all the things that make you happy. Things you come across during the day, or things you see, taste, feel. Nice things people did for you, etc.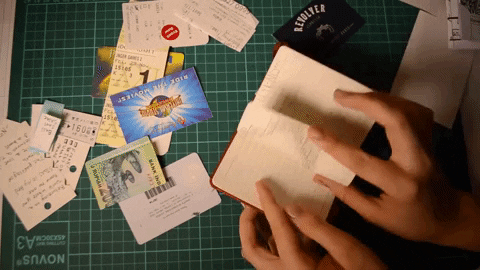 I truly believe that by writing these things down and acknowledging them, good energy will come your way – or at least train your mind to notice the happy over the crappy. When you are aware of all the happy things in your life, you radiate light, and when you radiate light, you attract people. Maybe even a NYC fireman (or close).
I told Theresa and suggested she try it. She looked at me like "Here we go again, another weird Kathy idea…"
That was last weekend and yesterday Theresa told me that she and Ofelia went to the bookstore and bought their bliss books (blank journals). Not only that, but they also started a blog called "me encanta" (I love…) where they are posting about all the little things in life that make them smile. I think that is an awesome start!
Again, this is nothing to stress over.
Celebrate the good things! When life gets you down, when you have the worst day ever or are home sick or your date stands you up, force yourself to write something positive that happened to you – even if it was just a yummy iced mocha you had.
It can also be your brainstorm ideas for your master plan to take over the world!
It can be obstacles you overcame!
It can be something funny you heard!
It can be about calories you saved!
It can be about a cute guy who held the door open for you.
It can be about finding that missing earring under the sofa cushion!
It can be the goods you scored with a 40% off craft store coupon!
Every. Little. Bit. Counts.
Do you keep a bliss book? Please post links or share your story about it in the comments!
These are my three bliss books. Notice how they are so different from one another? It reflects my mood at the time I worked on them. The cover is coming off of one of them because I used it so much. I like to decorate the covers and then fill them with anything and everything. Or you could just leave the cover blank, or add stickers or patches.

Other ways to make a bliss book!