This trunk or treat project is a sponsored campaign with Amazon Prime. all ideas and opinions are my own.
As an Amazon Prime family, we always have boxes around the house, which is very handy during Halloween season when we're creating DIY projects events at home, school or the neighborhood. After using Amazon Smile boxes to make two epic Halloween #boxtumes (check out my llama and cake slice tutorials), I had leftover boxes and used them to create an eerie Trunk-or-Treat graveyard scene in the back of our SUV!
You can use your own Amazon Smile boxes, plus some simple crafting supplies to make your own fabulous version!
A graveyard scene in your vehicle? Sure! It's all because of Trunk or Treat, which has become a popular tradition for Halloween. It's when people decorate the trunks of their cars and get together with others to create their own attraction. It's an easy and compact way to be creative and using Amazon Smile boxes makes it even easier and affordable.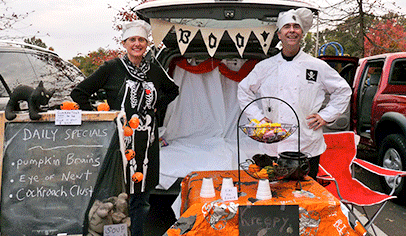 You can go as big or small as you want – serve candy or food, load up on the music and any other haunts!
SUPPLIES TO MAKE A TRUNK OR TREAT GRAVEYARD SCENE
Amazon Smile boxes
Scissors
Marker
Hot glue and embellishments
Tarp
Plastic bones
Cobwebs
Banners and decorations
Straw, mulch, felt or faux rocks
Craft paint and liner brushes
Black and silver spray paint
Directions:
Open the seam of the boxes and cut into rectangles. Draw shapes at the top to resemble headstones. Cut. Hot glue items like trim or other embellishments to create texture.
Once everything is glued down, then spray paint all the headstones black and silver. If you have faux stone paint, that will work too!
Let dry and paint designs on the edges and add phrases! Fold over the bottom of each headstone and add a cardboard reinforcement on the back to give each one structure to stand upright.
Now it's time to put it all together! Start by lining your trunk with a thick liner, we used a plastic tarp. Add cobwebs and then add the back row of headstones. Fill in with straw or mulch or whatever you want. Add in the second row. Fill in with plastic bones, a battery-operated strobe light, and a speaker for scary music!
You can also decorate the top of your car. I created a scene with a banner and cob webs, but it was so windy it blew away during the filming of my video! Use black gauze, cobwebs, banners, and anything else you can hang from the top!

Here's why you should use Amazon Smile boxes – it's so much more affordable – and fun — than buying ready-made headstones from the store. You can make a lot of them and customize them to make them different from everyone else's! Save them and use them again next year. And if you aren't doing a trunk or treat, you can use this same method to create a graveyard scene in your front porch or lawn.

Thanks for checking out my Trunk or Treat Graveyard Scene using Amazon Smile boxes! Make sure to follow #AmazonPrime #boxtumes to see all the cool thing everyone is making and how your delivery packaging can be #morethanabox!