Incredibles 2 is now out on DVD – and it releases on digital this Tuesday, November 6th! You know what that means – you gotta throw a viewing party! One of my highlights of this year was attending the press junket for the film in Los Angeles and interviewing the cast. Today I'm happy to share I have four digital copies to give away to four of you!
To enter: Scroll to the bottom of this post to see the entry box. I'll choose four winners on Tuesday and send these out.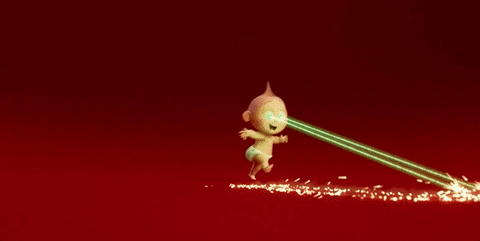 In the meantime, let's plan that party!
I gathered up my family to make all these fun crafts and snacks. This is such a fun way to bring your favorite people together to have a conversation and tell stories. This is why I love creativity and crafting – it brings people together.
Here's what we made:
1. Incredibles 2 Cupcakes, by my sister-in-law Stacey
After baking the cupcakes and letting them cool, Stacey broke out with the fondant. She added color and formed balls and then rolled them out. She used cookie cutters to make the stars and logo. She topped each cupcake with buttercream frosting and then added the fondant designs.
2. Edna Mode Cookies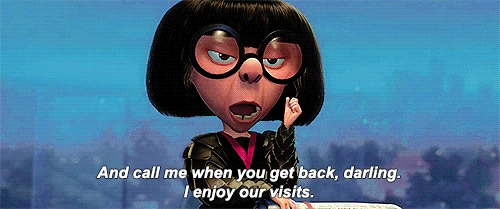 Edna is my favorite! My friend, Eliana, used a frosting bag and a large tip to make these. We took Madeleine tea cakes and turned them horizontally to get the look of Edna's face.
Aren't they adorable?
3. Incredibles 2 Peg Dolls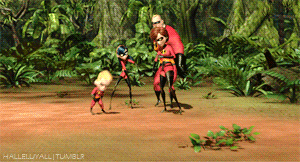 My husband, Patrick, used markers to color these peg dolls. We wished we would have used paint to get cleaner lines. But markers will do, no cleanup, right?
4. Incredibles 2 Hanging Fans
These are super easy to make! My mom-in-law cut out each character from posters and then we glued them to the front of each fan.
5. Assorted party favors and snacks!
Stock up on party favors, plates, red, orange, yellow and black treats!
Check out my post from earlier this year, it has a lot of games and activities you can use for your party! Click on image to go to that page.
7. Cast interviews!
Here are my cast interviews – these are fun to read to learn about the backstory of the film!
TO ENTER: Leave a comment below sharing your favorite Incredibles 2 scene – either from the first movie or the second! I'll choose four names to win a copy. Must be 18 years and older, US. residents only.