Happy birthday, Selena!
It's been 25 years since her passing on March 31st, yet her music and her images live on. Selena Quintanilla-Perez would have celebrated her 49th birthday today. We are yelling to the heavens, Happy Heavenly Birthday to the Queen of Tejano Music, Selena Quintanilla-Perez!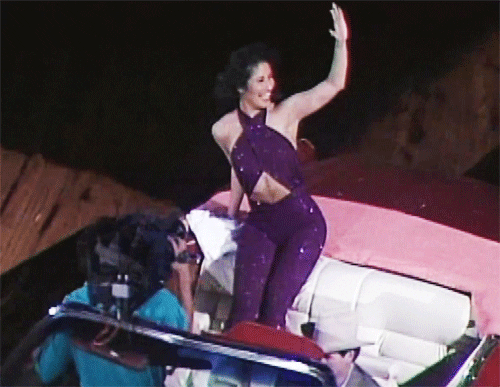 Wearing her classic bustier and black pants, she always knew how to make a statement. I'm sure you've had those thoughts of, "If she was still alive, she'd be such a huge international star." And those who followed wouldn't be where they are now if it wasn't for Selena. I love when singers pay homage and sing her songs. Just last year, fellow Texan Kasey Musgraves covered Como La Flor at the Houston Livestock Show and Rodeo, a moment that sent the interwebs a buzzing.
Speaking of cover songs, did you know there are many young singers who keep her memory alive by singing her songs? We did a search and picked our favorites to share – here are Five Selena Covers we found on YouTube!
Selena continues to be a muse for many and she inspired crafts made by Kathy. If you don't have a Selena something in your home, are you really a fan? Try out one of Kathy's crafted tops, earrings, or if you have a daughter or niece, you'll want to make the iconic purple jumpsuit from Selena's final performance at the Houston Livestock and Rodeo in 1995.
Enjoy these amazing crafts inspired by Selena by Kathy! Selena continues to live on with events in her honor that happen during her birthday weekend in Corpus Christi, Texas where her family still resides. If you make a trip to south Texas, make sure to visit the beautiful bronze statue of Selena at the corner of Peoples Street T-Head and Shoreline Boulevard called Mirador de la Flor.
Have one of the most iconic images of La Reina de Tejano from her Grammy win in 1994 on your custom tank. Everyone will want you to make one for them too!
When Target was selling the Selena t-shirts, this was a great score by Kathy! You'll never guess where she found it either?! In the mens department. I absolutely LOVE how she glittered the t-shirt. It's perfect and we all know Selena would have loved it as well. She loved all things sparkle. Did you know that Selena and her sister Suzette designed a lot of the costumes she wore on stage and the vests worn by Los Dinos her band? True story! The beautiful bustiers she wore, she would hand stitch each one of those rhinestones.
We all learned from the self-titled film 'Selena' that Selena loved pizza. It was rumored that she could eat an entire medium pizza on her own. And yes, she managed to keep her body on point. We'll never know her secret!
Yes, not one but two Selena inspired costumes for your daughter, niece, sister or friend's kid that you want to dress up as Selena. How cute is she?! Adorable!
I never got to see Selena in concert, the closest I got was just watching her on The Johnny Canales Show and then Siempre en Domingo. Talk about some relics of the Latin music scene. Selena always had a smile and wave for the crowd and cameras, I can imagine how she lit up the room. All of her songs got the dance floor hopping and you could see how people emulate her dance moves. I am sure that Baila Esta Cumbia still gets folks on the dance floor because when I hear it, I get up and dance! Have you perfected the Selena spin? Check out this fun video of Selena spins and get your practice on!
And in case you hadn't heard – Netflix is launching a Selena series this year! 
While it is a sad day, it was wonderful to write about and share about Selena. Being a Texan, Mexican-American, and fan of Tejano music Selena, will always be one of my favorite artists.
All we can do is continue to share her music and dancing. We'll always have images of her beautiful smile. Forever young. 
Happy Heavenly Birthday Selena!

Do you have any memories of Selena? Tell me about your Selena memorabilia and let us know if you've been to Corpus Christi, Texas. Share them in the comments, I'd love to read your memories.
Happy birthday, Selena!
– Candy