Here are some delicious empanada ideas to serve for the holidays!
While turkey and ham are the traditional centerpieces, there's no reason why you can't mix things up a bit and add some variety to your menu like empanadas!
Empanadas are a type of crescent-shaped pastry that is savory in taste. They are made by filling dough with a range of ingredients, which can include beef, chicken, pork, tuna, shellfish, cheese, vegetables, and so much more.
And, they are a staple in many cultures, especially in Latin America. In Mexican culture, we call them empanadas! Other names you may have heard – meat pies, pastelitos, beef patties, etc
My Nana Cano used to bake these every week. She kept them piping hot for any of us who stopped by to visit. And she rarely made one flavor. Apple, pumpkin, even mincemeat! She loved to bake and share her food and you could taste it in every bite.
About empanadas
The filling is usually seasoned with a variety of spices and herbs to add flavor, and the empanadas are then either baked or fried until they are golden brown.
Empanadas are a great addition to any holiday menu. They are portable and hand-held little hand pies with savory or sweet fillings. No need for utensils, so they are a perfect for a casual treat for the season.
With their delicious and versatile fillings, empanadas are a popular and satisfying snack or meal option that can be served at Thanksgiving dinner.
Check ou tthe bottom of this post to see variations of how to make the dough.
Ideas for Empanadas to Serve for the holidays
Here are some ideas for empanadas you'll love! Click on the title for the link to the recipe.
You can use the turkey you are cooking for Thanksgiving or you can make these AFTER Thanksgiving to use up your leftover turkey and leftovers (holiday leftovers are the BEST)!!
You can easily make turkey and cranberry empanadas. I love making sandwiches and food with our leftover Thanksgiving food! So delish!
Simply combine turkey (or leftover chicken) with cranberry sauce and stuffing (and whatever else!), and then wrap the turkey mixture in a flaky crust.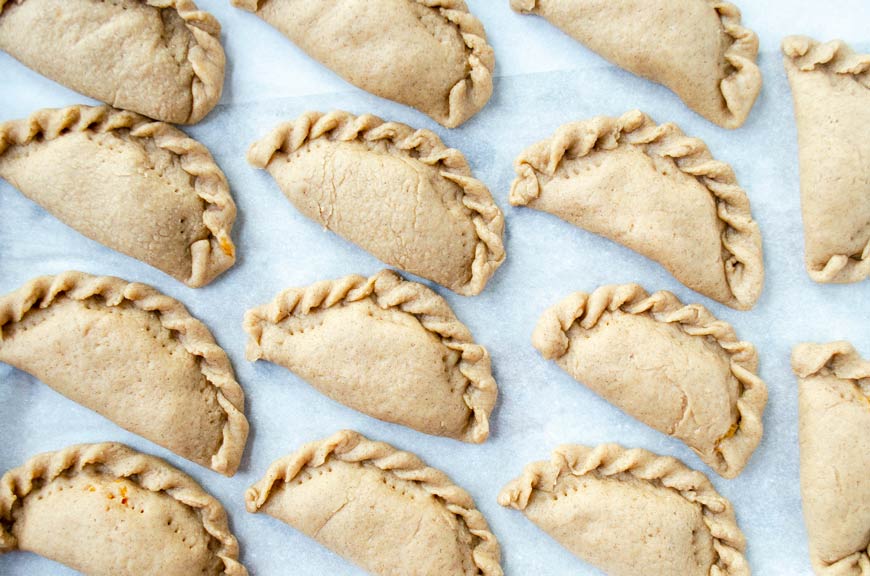 Sweet potatoes are a classic Thanksgiving side dish, so these are a must-have on the ideas for empanadas to serve at Thanksgiving! Simply roast some sweet potatoes with spices like cinnamon and nutmeg, and then mash them up and mix them with black beans and corn. Wrap the mixture in a pastry crust, and you've got a delicious and unique empanada that's perfect for Thanksgiving.
For a sweet and decadent dessert empanada for Thanksgiving Day, try filling your pastry crust with diced apples, caramel sauce, and a sprinkle of cinnamon (Don't forget a sprinkle of sugar!).
These empanadas are a great way to end your Thanksgiving meal on a high note, and they're sure to be a hit with everyone at the table. Adults AND kids love them!
Butternut squash is another classic holiday ingredient that can be turned into delicious empanadas. Roast some butternut squash then cook some sausage with fresh sage.
Next, mix it with goat cheese. Wrap the mixture in a pastry crust, and you've got savory empanadas unlike any other you have tasted before!
Try this recipe by IsabelEats.com!
These empanadas are made by mixing chopped pecans with brown sugar, melted butter, corn syrup, and other yummy ingredients, and then wrapping the mixture in a pastry crust.
The result is a sweet and nutty filling that's reminiscent of a classic pecan pie but in a convenient and portable hand-held form easy for everyone to nibble up on Thanksgiving Day! Serve these empanadas warm with a dollop of whipped cream or a scoop of vanilla ice cream for a decadent and delicious dessert.
Turn the classic Thanksgiving green bean side dish into delicious empanadas by mixing green beans, cream of mushroom soup, and fried onions. These are so good and would make a great side dish on the Thanksgiving table this year.
The best way to make empanadas is to combine tangy cranberry sauce with creamy brie cheese for a sweet and savory empanada that's perfect for Thanksgiving. These are probably my favorite ones because the combination is so delish!
Stuffing and Gravy Empanadas
Wrap leftover stuffing and gravy in a pastry crust for comforting and delicious empanadas that even children will want to devour. These empanadas are served wonderfully with turkey dinners or leftover Thanksgiving turkey!
My friend Nicole from Presley's Pantry knows how to mix up the empanada game! Check out her recipe for a delicious twist to the traditional pumpkin empanada.
For a quick version: Mix canned pumpkin puree with cream cheese, brown sugar, and spices like cinnamon and nutmeg for a sweet and creamy empanada filling. Add to empanada discs and bake!
Roast Brussels sprouts with bacon and garlic, and then mix the mixture with goat cheese or shredded Parmesan cheese for a flavorful and unique empanada. Here is a recipe.
Ham and Cheese Empanadas
Mix diced ham with shredded cheddar cheese and wrap in a pastry crust for a classic and crowd-pleasing empanada.
Fry up some beans, add some cheese and create a lunch-on-the-go treat! Don't forget to add a side of salsa!
Apple and Cheddar Empanadas
If you enjoy eating cheddar with your apple pie, then this is for you! Just dice apples and mix them with sharp cheddar cheese, brown sugar, and cinnamon, for a sweet, cheddary empanada that's perfect for Thanksgiving!
If you want to make your empanadas a little different, check out my recipe for Sugar Skull Empanadas with apple and cheese! They are so fun and kids would get a kick out of them on Thanksgiving!
Roast a variety of vegetables like carrots, sweet potatoes, red pepper, bell pepper, tomatoes (or whatever veggies you love!), and onions. Then mix them with melted smoked mozzarella cheese and herbs for a healthy and flavorful empanada.
​A beef and cheese empanada is a type of empanada that is filled with a savory mixture of ground beef (or ground turkey works well too!), and lots of shredded cheese. The filling is usually seasoned with a variety of spices and herbs, such as cumin, paprika, black pepper, tsp salt, and garlic, to add flavor to the filling. And cheese of course!
​The Ropa Vieja Empanadas are savory, tender, and oh-so-good! This is made with beef cheek meat, a variety of veggies, salt, pepper, spices, herbs, and more! You can find the full recipe by clicking the link above!
Last, but not least, are these super yummy Candy Bar Empanadas! All you need to make these are your favorite bite-sized candy bars, pie crust, wax paper, and a circle cutter (or cookie cutter). Get the full recipe on how to make these candy bar empanadas by clicking that link!
How to make empanadas pie crust
If you are wondering how to make the homemade pie dough crust for your empanada recipe, then this part of the blog post is for you.
Otherwise, you can easily purchase premade pie crust or pastry sheets from your local grocery store in the refrigerator section.
Empanadas dough is made from:
All Purpose Flour
Salt
Unsalted Butter
Egg Yolks
Water
​There isn't a lot of prep work which I love and is an easy recipe! You can find the full recipe for empanada dough here!
NOTE: For a short cut, just pick up a roll of pastry dough at the grocery store.
Whether you're looking for a savory appetizer, yummy foods, or a sweet dessert, empanadas are a delicious and convenient option that's sure to be a hit at any Thanksgiving meal.
Empanadas can be made with your favorite ingredients mixed together and are really fun to experiment with to see which variations you would enjoy eating most!
How Do I Store Empanadas/How Long Do They Last In The Fridge?
If you have any leftover empanadas simply store them in an airtight container and put them in the fridge. They are good in the fridge for up to 3 days.
It is important to let the empanadas cool down to room temperature before storing them in the refrigerator to prevent condensation from forming inside the container.
Can I Freeze Unbaked Empanadas?
If you need to store empanadas for a longer period, you can freeze them for up to 3 months. To freeze unbaked empanadas, arrange them on a baking sheet (make sure they do not touch each other) lined with parchment paper and freeze until solid.
Then, transfer them to a freezer-safe container or plastic bag, and store them in the freezer until ready to bake. Don't forget to write the date on the containers!!!
If you are searching for more Mexican-inspired Thanksgiving ideas, click that link! And, for something super unique, check out these calorie-free felt empanada ornaments you can make for your tree! So cute!
What do you think of these ideas for Empanadas to Serve at Thanksgiving dinner? Did you find an empanada recipe you want to try? Let me know in the comments below!